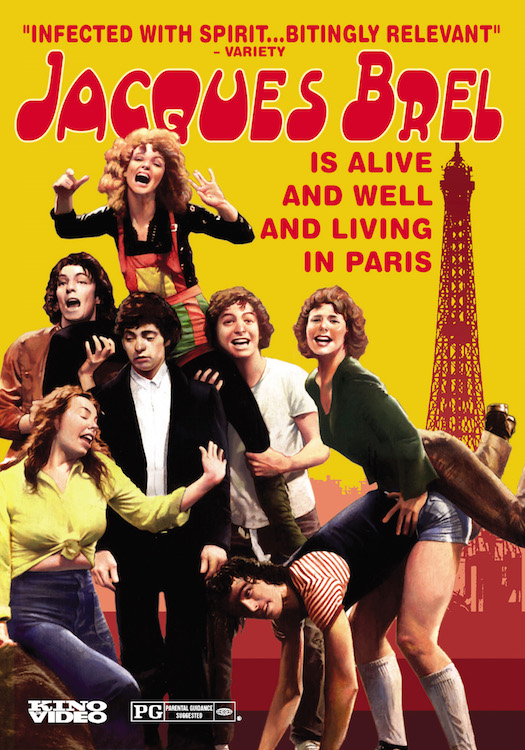 Jacques Brel is Alive and Well and Living in Paris - New HD Transfer
Directed by Denis Heroux
Year: 1975
Country: U.S.
Language: English
Eschewing conventional narrative, JACQUES BREL IS ALIVE AND WELL AND LIVING IN PARIS transforms Mort Shuman and Eric Blau's beloved 35-song stage revue into an infectious movie musical that showcases both Brel's astonishing songwriting breadth and the resourceful audacity of 70's filmmaking. Belgian born Brel's richly sensual, uncompromising and lyrical songs provide a simultaneously ecstatic and tragic framework for this flamboyant and moving film. Director Denis Heroux utilizes everything from puppetry to location photography to shepherd Brel's music far beyond the proscenium-bound horizon.

Working from the surreal imagery and concrete emotions with which Brel laced his lyrics, songwriter Mort Shuman (himself co-creator of some of the most memorable hit songs for the Drifters and Elvis Presley) transforms Brel's French chansons into lushly romantic yet unsentimental English language versions. Shuman, Elly Stone, and Joe Masiell give voice to Brel's tangos and boleros in an explosion of settings that are inexhaustibly imaginative and intimate. But the true showstopper offers Brel himself singing his signature, "Ne Me Quitte Pas," in a sequence that ranks as one of the most powerfully understated and sincere musical performances ever put on film.

From the vitriolic anti-war accusations of "Au Suivant" ("Next") to the achingly real "Chanson des Vieux Amours" ("Song of the Old Lovers"), Brel foments protest without preaching, celebrates tragedy without sinking to despair and offers insight without shunning emotion. Kino's presentation of AFT's JACQUES BREL IS ALIVE AND WELL AND LIVING IN PARIS is proof of this celebrated modern troubadour's timeless relevance and enduring passion.
"Infected with spirit...bitingly relevant" - Variety
---
Cast
Joe Masiell
Mort Shuman
Elly Stone
Jacques Brel
Crew
Writers Eric Blau and Jacques Brel
Directed by Denis Heroux