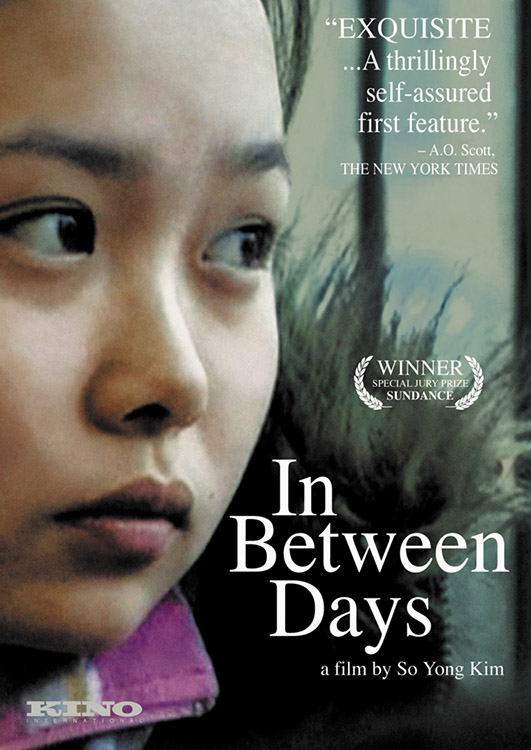 In Between Days
Directed by So Yong Kim
Year: 2006
Country: U.S., South Korea
Language: English and Korean with English Subtitles
"A quiet specimen of personal storytelling at its most exciting," (Entertainment Weekly) In Between Days intimately portrays the joys and risks of first love and burgeoning adulthood with bracing and undeniable honesty. Aimie (Jiseon Kim) is a teenager recently transplanted from her native South Korea to a snowbound North American city.

Disconnected from her single mother and bored at school, she struggles to find her way in a strange land of new faces, only to encounter a strange age of new feelings. Aimie's sole meaningful connection is to her best and only friend Tran (Taegu Andy Kang), a Korean boy a few steps ahead of her on the path to assimilation. But as Aimie's feelings for Tran grow in complexity and depth, her sole source of comfort and stability begins to cause her unease. On the threshold of maturity, Aimie struggles to find a place outside herself where past and future connect, and a place within herself where love and friendship don't cancel each other out.

In her "thrillingly self-assured" (New York Times) feature debut, director So Yong Kim uses intricately framed handheld DV photography and a naturalistic soundscape to lucidly render her non-actor casted performances with "remarkably unforced believability" (Time Out). Selected for the Dramatic Competition at the Sundance Film Festival, In Between Days is an "extraordinary debut film" that "wows with subtlety" (New York Magazine).
"EXQUISITE...A thrillingly self-assured first feature." - A.O. Scott, THE NEW YORK TIMES

"AN ASTONISHING DEBUT...Every shot, every edit, every scene feels just right. A MUST SEE!" - Allen Johnson, SAN FRANCISCO CHRONICLE

"INSTANTLY COMPELLING...An intensely specific film about the universal yearnings of adolescence." - Nathan Lee, THE VILLAGE VOICE
Once or twice a year, a movie as surprising and fulfilling as In Between Days sneaks up on me and really gets under my skin. So Yong Kim's feature-length debut is just such a film. The quiet story of a Korean immigrant struggling to understand her new life in North America, it placidly examines her emotions, the absence of her father, the boy whom she can't talk to about her feelings, and the general disconnectedness she feels at being uprooted. Working with cinematographer Sarah Levy, Kim creates a work of digital Neorealism, something both minimal and utterly natural. In Between Days is a keeper. Highly Recommended. - Jamie S. Rich, DVD Talk
---
Cast
Tran
Taegu Andy Kang
Aimee
Jiseon Kim
Crew
Directed by So Yong Kim