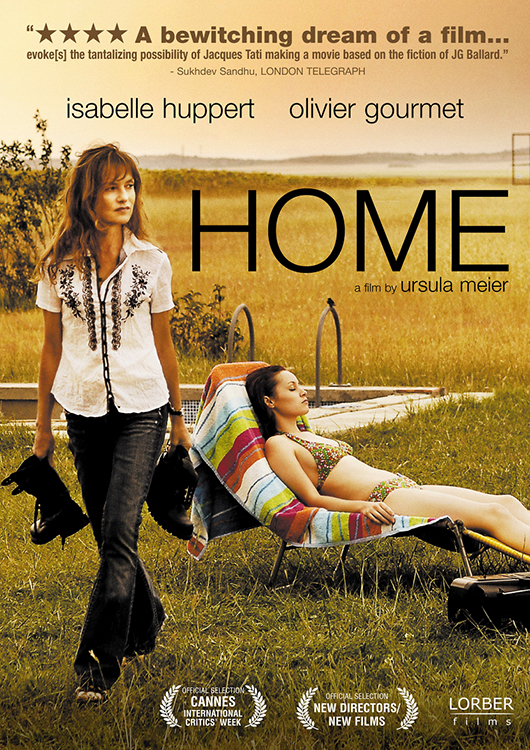 Home
Directed by Ursula Meier
Year: 2009
Country: Switzerland, France, Belgium
Language: French w/ English subtitles
Switzerland's official entry for Best Foreign Language Film at the 82nd Academy Awards, HOME is a mesmerizing fable of modern family life starring internationally renowned actress Isabelle Huppert (The Piano Teacher).

Huppert plays Marthe, a happy-go-lucky mother whose family enjoys an idyllic existence in their isolated, ramshackle home, which edges onto an abandoned highway. Almost entirely cut off from society at large, they forge their own utopia. Everything changes when city trucks roll in to complete the road's construction, allowing rush hour traffic to start rumbling by. Refusing to give up their solitude, Marthe, her husband Michael (Olivier Gourmet), and their three children resort to increasingly desperate measures to insulate themselves from the pollution creeping inside their windows.

With her debut feature, director Ursula Meier has created "a bewitching dream of a film" (London Telegraph), a funny, moving, and thought-provoking drama that tackles issues of environmental anxiety, familial strife, and the essential pleasure of a quiet night inside. With "terrific performances and superb cinematography" (Time Out NY) by Agnes Godard (Beau Travail), HOME exhibits a unique force and beauty that is an announcement of a major filmmaking talent.
"Terrific performances and superb cinematography." - Keith Uhlich, TIME OUT NY
"**** A bewitching dream of a film...evoke[s] the tantalizing possibility of Jaques Tati making a movie based on the fiction of JG Ballard." - Sukhdev Sandhu, LONDON TELEGRAPH
---
Cast
Olivier Gourmet
Isabelle Huppert
Crew
Directed by Ursula Meier