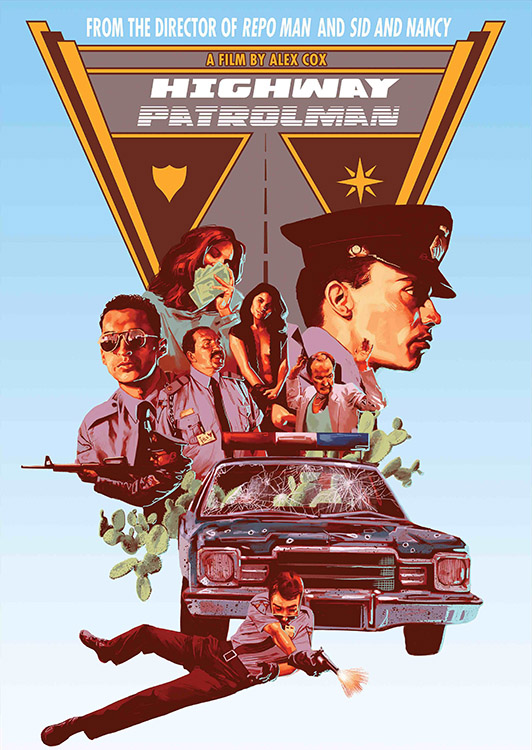 Highway Patrolman
Directed by Alex Cox
Year: 1991
Country: Mexico
Language: Spanish
Brand New 4K Restoration – Supervised by the Film's Director! From the director of Repo Man, Sid and Nancy, Straight to Hell and Walker comes "Maverick Director Alex Cox's Finest Film to Date" (Los Angeles Times). Against his father's wishes, Pedro (Roberto Sosa, Man on Fire), a naïve kid from Mexico City, joins the Federal Highway Patrol. His simple desire to do good rapidly comes into conflict with the reality of police work in a lonely rural environment populated by poor farmers, rich drug dealers, beautiful women—and his father's ghost. The wonderful cast includes Bruno Bichir (Sicario: Day of the Soldado), Vanessa Bauche (Amores Perros), Ernesto Gómez Cruz (The Crime of Padre Amaro), Mike Moroff (From Dusk Till Dawn) and Pedro Armendáriz Jr. (Once Upon a Time in Mexico).
"[A] gringo valentine. Dark comedy. Part road movie, part western. A pungent mix of existential grunge."
- J. Hoberman, The Village Voice
"The [real] Highway Patrol weren't exactly keen on us telling the authentic story of one of their operatives, so our production designer, Cecilia Montiel, invented a fictitious police force, complete with cars, logos, badges and uniforms... I used to think it was about the impossibility of doing good. But now I think it's really about the impossibility of imposing goodness on others. Today it can be seen as a film about the drug war, of course - a Mexican film genre in itself."
- Alex Cox
"While it rightly skewers American hypocrisy and complicity in Mexican drug- trafficking, [it] abounds in the timeless virtues of traditional Filmmaking... There is an epic quality to the hero's odyssey that recalls the Westerns of John Ford and such John Huston films as Treasure of the Sierra Madre... A beautiful, gritty film, steeped in the atmosphere of vast, desert-like vistas slashed by highways sizzling in the heat."
- Kevin Thomas, The Los Angeles Times


"The beautiful but arid landscape of north central Mexico is almost as much a character as Pedro, whom Mr. Sosa portrays in a performance that is at once strong and unassuming."
- Stephen Holden, The New York Times
"A beautifully observed, morally intelligent film."
- Andrew Pulver, The Guardian
"The hero is a young idealist fresh out of the police academy in Mexico City, ordered to a post in a mountainous, fir-treed outback where corruption reigns supreme. No one can tread these grounds untouched, not even him. The performances throughout are intelligent, understated. There's a nervy moment of stylish flourish when Cox's floating steadicam [sic -- read CAMERA] accompanies our hero, bloodied and limping, down a stretch of highway, midway though his life's defining gun battle -- but for the most part Cox's calm, feline gaze never judges or reproaches, never telegraphs to us what we're supposed to feel about what we're looking at. HIGHWAY PATROLMAN is an astonishing, mature piece of work. It's like a Bresson film with a rock & roll pulse."
- F.X. Feeney, L.A. Weekly
"Maybe the best film of Cannes 1992. Beautiful, wacky, utterly self-assured. A subtle comedy of errors."
- Georgia Brown, The Village Voice
---
Crew
Directed by Alex Cox
Writer Lorenzo O'Brien