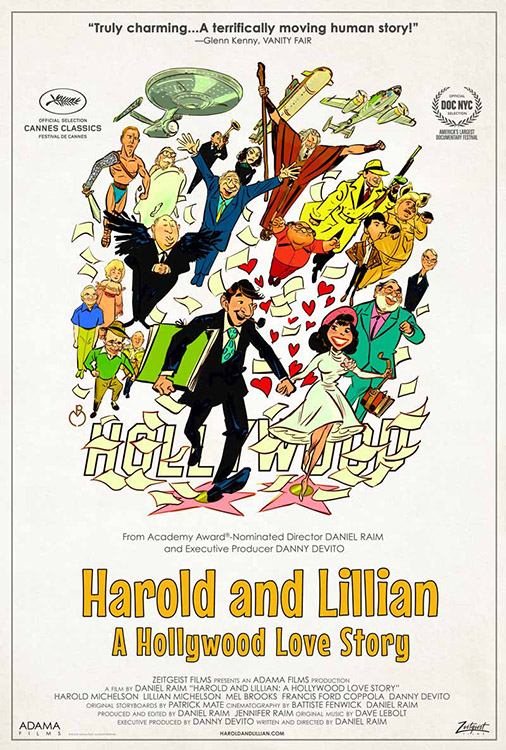 Harold and Lillian: A Hollywood Love Story
Directed by Daniel Raim
Movie fans know the work of Harold and Lillian Michelson, even if they don't recognize the names. Working largely uncredited in the Hollywood system, storyboard artist Harold and film researcher Lillian left an indelible mark on classics by Alfred Hitchcock, Steven Spielberg, Mel Brooks, Stanley Kubrick, Roman Polanski and many more. Through an engaging mix of love letters, film clips and candid conversations with Harold and Lillian, Danny DeVito, Mel Brooks, Francis Ford Coppola and others, this deeply engaging documentary from Academy Award®-nominated director Daniel Raim offers both a moving portrait of a marriage and a celebration of the unknown talents that help shape the films we love.
CAPTIVATING... The delightful duo at the center of Raim's film are storyboard artist Harold Michelson and researcher Lillian Michelson, whose 60-year marriage began in 1947 and ended with Harold's death at age 87. Subtitled "A Hollywood Love Story," the doc chronicles not just their mutual adoration and respect, but also Hollywood's love for them, and the joy they derived from their work. Their personal story is no less fascinating than their experiences working on hundreds of movies, together and separately.
---
Truly charming...A terrifically moving human story!
---
You don't have to be a movie buff to fall in love with the story of Harold and Lillian Michelson. Their sixty-year marriage—with more than its share of ups and downs—would be compelling enough... Be warned: you may tear up, as I did, toward the end of this affectionate tribute.
---
CRITICS' PICK! Charming... Like flipping through misplaced leaves in a photo book, the documentary maintains a free-flowing tone as it uncovers the work that went into creating some of the indelible scenes in Hollywood history.
---
For an hour and a half, this charming little movie, with its chatty talking heads and its sweet-natured subjects, offers a glimpse into the lives of two fascinating people whom I had never heard of, and who shared an unlikely life filled with achievements and setbacks, wonder and pain.
---
The film's real ace in the hole, however, proves to be Lillian, an endlessly quotable interview subject whose pixyish presence can't mask the sense that she knows exactly where all of the industry bodies are buried.
---
Beautiful... The stories Lillian tells are a treasure-trove of personal and professional anecdotes, doubling as a side history of Hollywood itself. But Harold and Lillian is most affecting as a tribute to their marriage... In a business where individual success waxes and wanes, and each new production is a job that will eventually be lost, the Michelsons rode out its crazy vicissitudes with something approaching harmony and grace. Theirs is a model few will ever get to follow.
---
One of the very best documentaries ever made about movies...I have rarely seen any movie, fact or fiction, that was quite so suffused with love—movie love and human love—as this one.
---
An awesome film... funny, heartbreaking, and packed with delicious film lore.
---
Daniel Raim's outstanding documentary quickly becomes one of the best I have seen in years...Not only a great window into the past of cinema looking ahead but such a touching and beautiful story on the love of cinema and the love that cinema can have on two amazing people. Tears of joy at the end of this film, and highly recommended even if you have the slightest interest in just how important things behind the scenes can be.
---
Crew
Directed by Daniel Raim