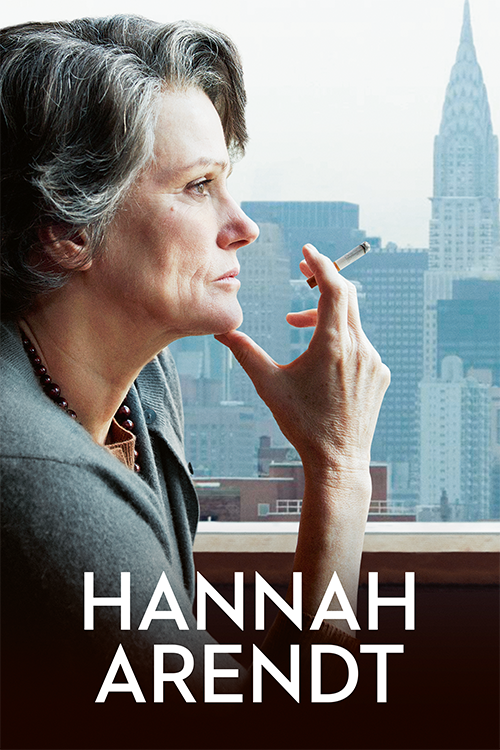 Hannah Arendt
Directed by Margarethe von Trotta
In the award-winning HANNAH ARENDT, the sublime Barbara Sukowa reteams with director Margarethe von Trotta (Vision,Rosa Luxemburg) for a brilliant new biopic of the influential German-Jewish philosopher and political theorist. Arendt's reporting on the 1961 trial of ex-Nazi Adolf Eichmann in The New Yorker—controversial both for her portrayal of Eichmannand the Jewish councils—introduced her now-famous concept of the "Banality of Evil." Using footage from the actual Eichmann trial and weaving a narrative that spans three countries, von Trotta beautifully turns the often invisible passion for thought into immersive, dramatic cinema. An Official Selection at the Toronto International and New York Jewish Film Festivals, Hannah Arendt also co-stars Klaus Pohl as philosopher Martin Heidegger, Nicolas Woodeson as New Yorker editor William Shawn, and two-time Oscar Nominee Janet McTeer (Albert Nobbs) as novelist Mary McCarthy.
ARDENT AND INTELLIGENT.... TURNS IDEAS INTO THE BEST KIND OF ENTERTAINMENT.... It's probably too much to hope that Ms. von Trotta and her star, Barbara Sukowa, will do for Arendt what Nora Ephron and Meryl Streep did for Julia Child, but surely a fellow can dream.... Contemplating one of the great lives of the 20th century.... There is an undeniable nostalgic thrill in stepping into an era in New York when philosophers lived in apartments with Hudson River views.... I would not hesitate to describe Hannah Arendt as an action movie, though of a more than usually dialectical type. Its climax, in which Arendt defends herself against critics, MATCHES SOME OF THE GREAT COURTROOM SCENES IN CINEMA.
---
THE BEST MOVIE THIS CRITIC HAS EVER SEEN ABOUT THE LIFE AND TIMES OF A WRITER!.... German titan Margarethe Von Trotta's magnificent meditation on the German-Jewish political theorist. Starring Barbara Sukowa as the title character, who lived a life few if any can match, it is major work, spartan, highly dramatic, and incredibly timely.
---
Even viewers who have never read a word of her books will be stirred by her intellectual and emotional courage in Barbara Sokuwa's award-worthy performance.
---
AN OUTSTANDING CINEMATIC PORTRAIT.... Trotta has made an extremely vivid cinematic essay, thrilling in its every minute, deeply moving in its seriousness and suitably unsettling.
---
Barbara Sukowa's climactic speech as the title character in Margarethe von Trotta's Hannah Arendt is perhaps the most significant speech ever put in the mouth of an actress.
---
As a film that takes politics and morality seriously, it is like nothing I have seen in a very long time.
---
As Arendt, Barbara Sukowa is a powerfully attractive presence.
---
Crew
Directed by Margarethe von Trotta