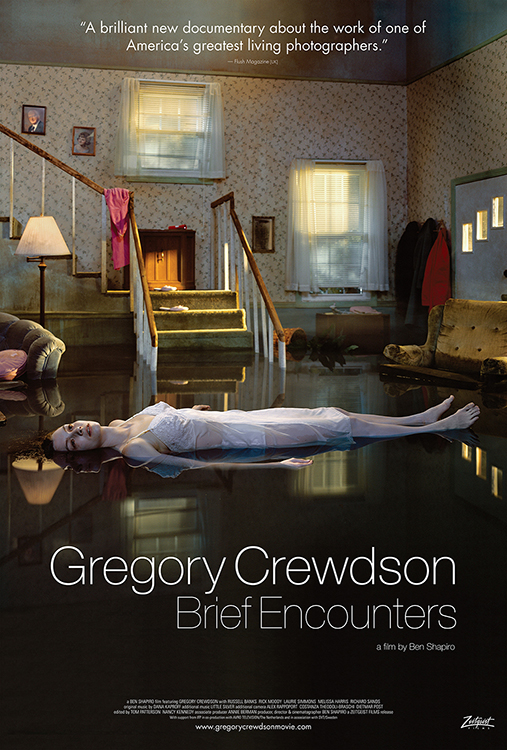 Gregory Crewdson: Brief Encounters
Directed by Ben Shapiro
Year: 2012
Optional English Subtitles
An acclaimed photographer with the eye of a filmmaker, Gregory Crewdson has created some of the most gorgeously haunting pictures in the history of the medium. His meticulously composed, large-scale images are stunning narratives of small-town American life—moviescapes crystallized into a single frame. While the photographs are staged with crews that rival many feature film productions, Crewdson takes inspiration as much from his own dreams and fantasies as the worlds of Alfred Hitchcock, David Lynch, Edward Hopper and Diane Arbus. Crewdson's imagery has also infiltrated the pop culture landscape—including his inimitable Six Feet Under ads and Yo La Tengo album art. Shot over a decade with unprecedented access, GREGORY CREWDSON: BRIEF ENCOUNTERS beautifully bares the artist's process—and it's as mesmerizing and riveting as the images themselves.


CRITICS' PICK! With marvelous discipline, Mr. Shapiro crams a wealth of material into a tight 77 minutes, smoothly communicating the group effort required to achieve the perfect shot.
---
A beautiful and contemplative look at Crewdson's process.
---
Anyone haunted by Mr. Crewdson's photographs, each one as complex in orchestration as a movie scene, will be compelled as the methodical process is revealed.
---
For those unfamiliar with Crewdson's oeuvre, the docu serves as a delicious eye-opener, while for fans it furnishes an unprecedented look at his long-secret methods, utilizing crews and budgets suitable for independent features, by which his eerily frozen moments of Americana come into being.
---
9 out of 10. ENGAGING, ASTUTE! Brief Encounters makes clear that everyone and everything are photogenic, painfully and perfectly photogenic.
---
Creepy doesn't begin to describe these masterworks of control freakery, nor does beautiful—they look as if they're glowing from the inside out, even as Crewdson's scenes of furtive common people make viewers feel like voyeurs."
---
A finely sketched portrait of the artist's unlikely pursuit of perfection.
---
A sprawling look at a ten-year process that shows some of his most brilliant photographs—from the inception of an idea, to the building of a moment, and the final stunning result as Crewdson reflects on his life and work, his fears and desires, and the things that tickle his creative fancy.
---
Chronicles the filmshoot-like process that goes into each of his eerie and exquisite large-format images.
---
Filmed over a decade, beginning in 2000, 'Gregory Crewdson: Brief Encounters' provides an unparalleled view of the moment of creation of his images. It also reveals the life-story behind the work.
---
A brilliant new documentary about the work of one of America's greatest living photographers.
---
Shapiro's goal isn't so much a comprehensive biopic as an in-the-moment snapshot of creative fervent... Brief Encounters is great entertainment.
---
A refreshingly frank look at the artistic process, as comprehensive and lovingly realized as the work it pays tribute to.
---
Seek out this wonderful film – it is one of my personal favorites in the endless stream of art documentaries released in the past year and I could not recommend it more highly.
---
This engaging profile is difficult if not impossible to look away from once it gets going — not at all unlike Crewdson's photographs.
---
For its ability to 'move the soul and inspire a true sense of wonder', I selected it as one of my Top Docs of the 2012 SXSW Film Festival.
---
Engrossing … [Crewdson's world] is a terrible, lovely, uncanny sort of place, a real-world Twilight Zone of Americana. SXSW Pick.
---
Crew
Directed by Ben Shapiro