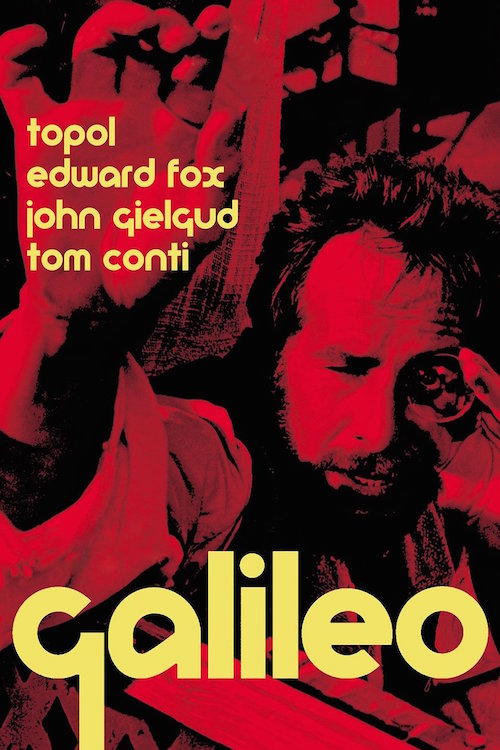 Galileo - New HD Transfer
Directed by Joseph Losey
Year: 1974
Country: U.S.
Language: English
Fiddler on the Roof's Topol and a wish-list cast of British theatrical aristocracy, including Sir John Gielgud (Arthur, Becket), Patrick Magee (A Clockwork Orange), Edward Fox (The Day of the Jackal), and Tom Conti (Reuben, Reuben), ground Bertolt Brecht's famous theatrical imagination in a precise, character-rich interpretation of the troubled life and anxious times of 17th century physicist and astronomer Galileo Galilei. Under director Joseph Losey (who originated the American stage version of Galileo in 1947), The American Film Theatre's Galileo focuses on Brecht's characteristic mosaic of theatricality and immediacy into a personalized and keenly cinematic drama that pits public responsibility against private doubt.

Challenged by a new student, tutor and theorist Galileo co-opts emerging telescope technology and discovers irrefutable proof of the heretical notion that the earth is not the center of the universe. But in a rigid society ruled by an uneasy alliance of aristocracy and clergy already undermined by the Plague and the Reformation, science is a threat and enlightenment is a luxury. Faced with either death at the hands of the Inquisition or recantation to a hypocritical but all-powerful Papacy, Galileo must choose between his own life and the restless scientific curiosity that he has spurned family, friends, and wealth to pursue.

In GALILEO, director Losey (Eva, The Go-Between, The Servant), an exile of the Hollywood blacklist himself, creates a uniquely affecting portrait of discovery, heresy, compromise, and exile. Neither coward nor hero, Brecht's Galileo reveals the troubling human side of the struggle between science, government, and religion.
"Taste, class and a first-rate cast...Landau and Losey have brought off an admirable film." - Variety
---
Cast
Michael Gough
Edward Fox
Colin Blakely
Topal
Crew
Writer Bertolt Brecht
Directed by Joseph Losey