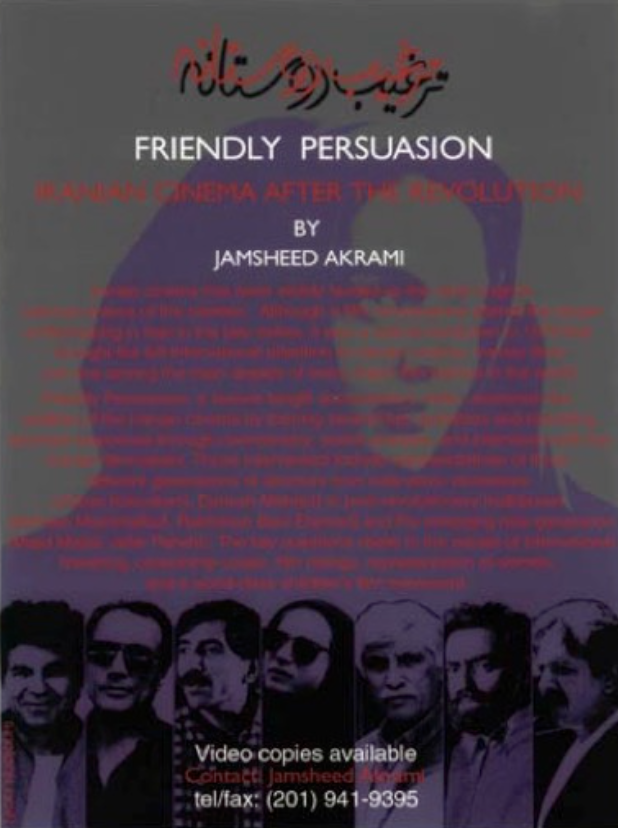 Friendly Persuasion
Directed by Jamsheed Akrami
Year: 2000
Country: U.S.
Language: English, Persian with English Subtitles
FRIENDLY PERSUASION examines the critical issues of Iranian cinema by framing several key questions and providing informed responses through commentary, scene analysis, and interviews with top Iranian filmmakers. The questions focus on international flowering, censorship codes, role of the government, representation of women, and a world-class children's film movement.

The filmmakers interviewed represent a diverse group of Iranian auteurs including new-wave visionaries Abbas Kiarostami, Dariush Mehrjui, Bahram Bayzai, and Masoud Kimiaie as well as the post-revolutionaries Mohsen Makhmalbaf, Jafar Panahi, Rakhshan Bani Etemad, Majid Majidi, and Tahmineh Milani. The film scholar Richard Pena provides an insightful commentary.
"A splendid introduction to films from a country that has established one of the world's finest national cinemas."
---
"A Comprehensive portrait of a national art form…. A must-see for any serious fan of Iranian film…. "Friendly Persuasion" is more inspiring than depressing. For its message is an encouraging one: somehow art will find a way."
---
"Jamsheed Akrami's wonderful new documentary, "Friendly Persuasion," addresses with great insight and intelligence many of the key difficulties surrounding the making of films in Iran today. A must-see." (***1/2)
---
"Friendly Persuasion is a superb, critical survey of post-Revolution Iranian cinema."
---
"Fascinating documentary… Dr. Jamsheed Akrami is one of the foremost authorities on contemporary Iranian cinema."
---
"Friendly Persuasion (***) is a thorough exploration of the Iranian film phenomenon..…If Iranian film is your thing, here's the primer on these filmmakers who must balance their survival instincts with their creative appetites, and who have given the world masterpieces of light, composition and human feelings."
---
Crew
Directed by Jamsheed Akrami