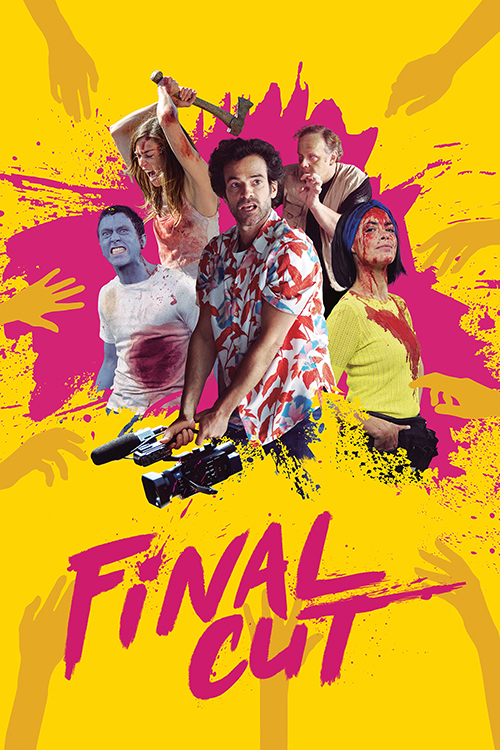 Final Cut
Directed by Michel Hazanavicius
Year: 2023
Country: France
Language: French with English subtitles
The opening night selection of the 2022 Cannes Film Festival was this wacky horror comedy, a remake of Shin'ichirô Ueda's cult hit One Cut of the Dead. It follows a director (Romain Duris, L'Auberge Espagnole) making a live, single-take, low-budget zombie flick in which the cast and crew, one by one, actually turn into zombies. Oscar® winner Michel Hazanavicius (The Artist) milks the film's hilarious and meta-to-the-max premise for all it's worth, while also crafting a sly love letter to the art of filmmaking. What's on screen unfolds in typical cheesy B-movie fashion, while the off-screen hijinks offer a celebration of the unpredictable and collaborative nature of film sets. Featuring a hysterically unhinged turn by Oscar® nominee Berenice Bejo (The Artist) and serving up blood-soaked high farce par excellence, FINAL CUT revels in its affectionate embrace of goofy genre fun.
"Cinema is not dead, the film says. But it may be undead, still shuffling around and finding 13th-hour ways to turn fake blood, real sweat, and honest-to-Godard tears into something like magic."
---
"Hazanavicius has made a movie that tests our ideas of creative genius… this trashy, goofy, giddy, sloppy gore-fest isn't so different from 'The Artist' after all."
---
"Hazanavicius forges his own path… a hilarious meta-commentary on the struggles of making a remake."
---
"Chaotic, filled with bad language and blood. In other words, it's a great deal of fun."
---
"Downright hilarious…a bloody good time"
---
"Uses the coarse language of B-movies to make one re-appreciate the magic of cinema."
---
"A gory pleasure... Clever and giddily entertaining"
---
"Fun and self-reflexive, while also leaning into its remake status for a few added laughs."
---
"In its own particular and seriously deranged way, Final Cut is as much a valentine to the act of filmmaking as Hazanavicius' Oscar-winning film The Artist was."
---
"A feel-good, highly entertaining comedy… You walk out of Final Cut with a smile on your face"
---
"Delightfully silly… a salute to cinema so goofy and goodhearted that it is hard to resist.''
---
"An entertaining piece of work… [that] may yet have found a way to breathe new life into the zombie genre itself."
---
Cast
Romain Duris
Bérénice Bejo
Matilda Lutz
Grégory Gadebois
Finnegan Oldfield
Crew
Directed by Michel Hazanavicius