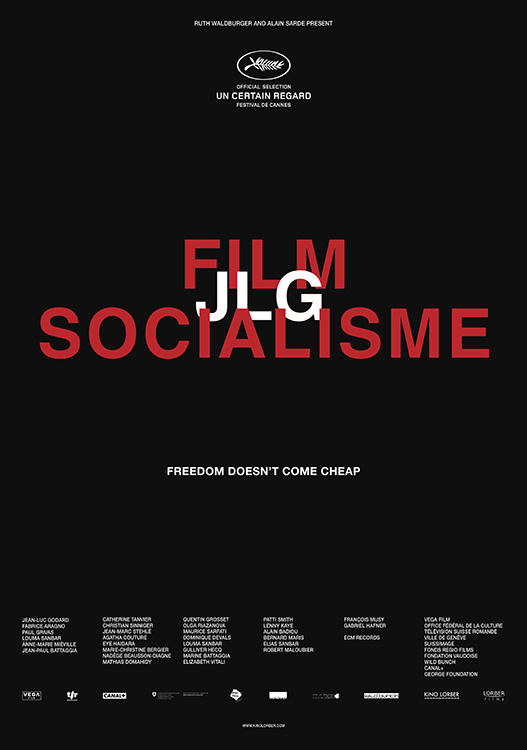 Film Socialisme
Directed by Jean-Luc Godard
Year: 2011
Country: France
Language: Multi-Language with original
Legendary director Jean-Luc Godard (Contempt) triumphantly returns to the screen with FILM SOCIALISME, "a remarkable and beautiful and challenging" (Glenn Kenny, MSN) essay on the state of Mediterranean life, culture and history.

It is split into three parts, the first set on a garish cruise ship traveling the Mediterranean Sea (the Costa Concordia). Godard contrasts the rich and conflicted history of the ship's ancient itinerary with the ostentatious gluttony of its well-to-do passengers. The second part descends on a struggling rural French rest stop, whose owners, seeking to change their fate, are running for office. It is their discontented children, though, who point towards an alternate future. Finally, the film closes in a gorgeous, aggrieved montage that acts as an idiosyncratic history of the past and future of the region.

Anticipating the Greek debt crisis and the Arab spring, FILM SOCIALISME "is both timeless and timely" (J. Hoberman, Village Voice), shot in shimmeringly beautiful HD, but also hurtling headlong into the socio-political crises of our times.
"Both timeless and timely." - J. Hoberman, The Village Voice
"More than a storyteller, always a poet, Jean-Luc Godard continues to challenge how movies function and how we look at them." - Armond White, NY Press
"In typical Godardian fashion the film manages to be both strident and elusive, argumentative and opaque." - A.O. Scott, New York Times
"The artistic fire that has driven him for the past half-century is still blazing away after all these years." - Peter Sobczynski, efilmcritic.com
"Those receptive to Godard's sense of humor will find Film Socialisme an elusive yet expansive provocation. The experience is disarming, frequently funny and finally rather moving." - Michael Phillips, Chicago Tribune
"...remarkable and beautiful and challenging." - Glenn Kenny, MSN
"Visually ravishing...filled with sensuous pleasures." - J. Hoberman, Village Voice
"One of his most alluring and most coherent meditations." - Richard Brody, The New Yorker
"Provocative...gorgeous..." - A. O. Scott, The New York Times
---
Cast
Robert Maloubier
Patti Smith
Jean-Marc Stehlé
Christian Sinniger
Catherine Tanvier
Crew
Directed by Jean-Luc Godard
Cinematographers Paul Grivas and Fabrice Aragno
Writer Jean-Luc Godard