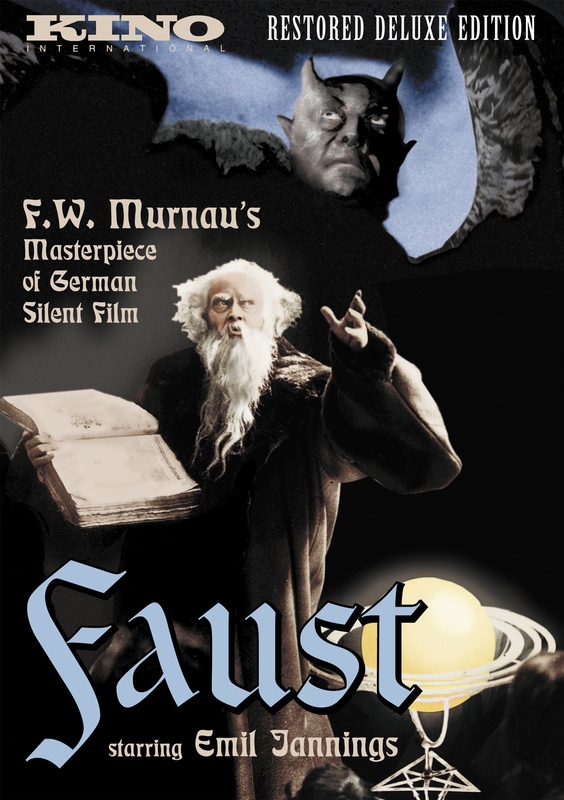 Faust
Directed by F. W. Murnau
Year: 1926
Country: Germany
Language: Silent with English intertitles
Mobilizing the full resources of the Ufa Studios, F.W. Murnau (Nosferatu, Sunrise) orchestrated a colossal adaptation of Goethe's FAUST that ranks alongside Fritz Lang's Metropolis as the greatest achievement of the German silent cinema.

Gösta Ekman stars as the titular alchemist who, struggling with his faith amidst a devastating plague, is offered the power to cure and the gift of youth...in exchange for his soul. As the diabolical Mephisto, Emil Jannings (The Last Laugh) delivers a performance of operatic scale and intensity, by turns charming, comical, and horrific.

This special Kino edition contains the Friedrich Wilhelm Murnau Foundation's meticulous restoration of the original German version of the film (with unique hand-painted intertitles), as well as a lengthier alternate cut prepared by the Ufa Studios in 1930.
"One of the most astonishing visual experiences the silent film has to offer." - Dave Kehr, The New York Times
"Murnau extracts the essence of Goethe's poetic masterwork through the strength of his images...Such astonishingly vast visual conceits as the Devil covering a town with his wings and spewing gas to spread the plague, or the final transfiguration of the martyred lovers, suggest an artistic imagination that isn't merely adaptive but even rivals Goethe's own." -Richard Brody, The New Yorker
---
Cast
Emil Jannings
William Dieterle
Gosta Ekman
Camilla Horn
Crew
Writer Johann Wolfgang Goethe
Directed by F. W. Murnau