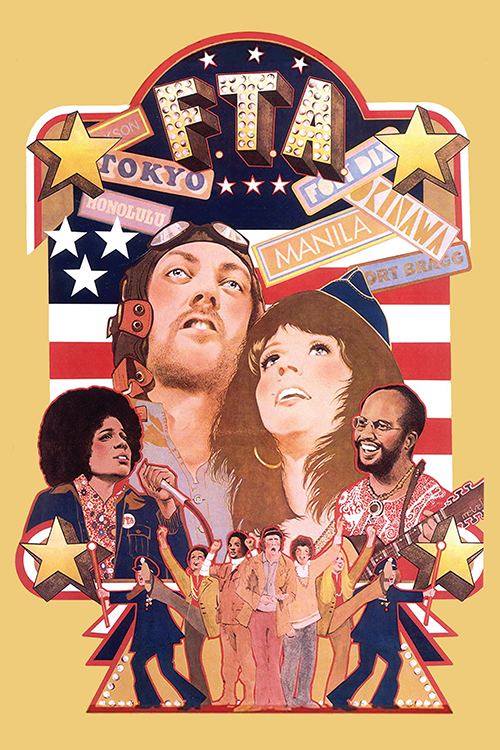 F.T.A. (new restoration)
Directed by Francine Parker
Year: 1972
Country: U.S.
Language: English
English Closed Captions
"The Show the Pentagon Couldn't Stop!" In 1971, at the height of the Vietnam War, Jane Fonda and Donald Sutherland toured an anti-war comedy show across Southeast Asia. It was directly engaged with and inspired by veterans against the war and, naturally, it upset U.S. military higher-ups. The F.T.A. tour was highly controversial and was a huge success among stationed soldiers. In spite of positive reviews and business, director Francine Parker's film version was quickly taken out of circulation due to political pressures and has been difficult to see for decades.

F.T.A. has now been fully restored in 4K by IndieCollect and is preceded by a new video introduction by Academy Award-winning actor and activist Jane Fonda, which provides historical context and explains the impetus that sparked the creation of the F.T.A. troupe.
"A genuine, powerful and even stirring expression of the antipathy engendered by war... and scarred the psyches of those who lived through it."
---
"Holds up as a terrifically funny movie. Nixon might be long dead, but if you want to sock it to him regardless, be sure to check this out."
---
"Sounding out a once-elusive call of defiance for all to hear… [Fonda] and her comrades loved the country that they devoted their energies and risked their reputations to better it, their criticisms the ultimate act of patriotism."
---
"A vibrant artifact. The message of F.T.A. is still infuriatingly relevant. This new restoration connects the present to the past."
---
"A stunning portrait of an antiwar musical comedy revue that was a corrective to Bob Hope's
gung-ho UFO shows."
---
"Funny, biting and tuneful, it takes you right back there if you lived through it, and might be an eye-opener for activist 'Ok, Boomer' millennials."
---
"An important record showing the strength of the American people's opposition to the Vietnam War."
---
"Brought together elements of the Old and New Lefts, radical politics and Hollywood celebrity, in an exceptional, and exceptionally powerful, way."
---
Cast
Jane Fonda
Donald Sutherland
Rita Martinson
Paul Mooney
Michael Alaimo
Len Chandler
Pamala Donegan
Crew
Directed by Francine Parker