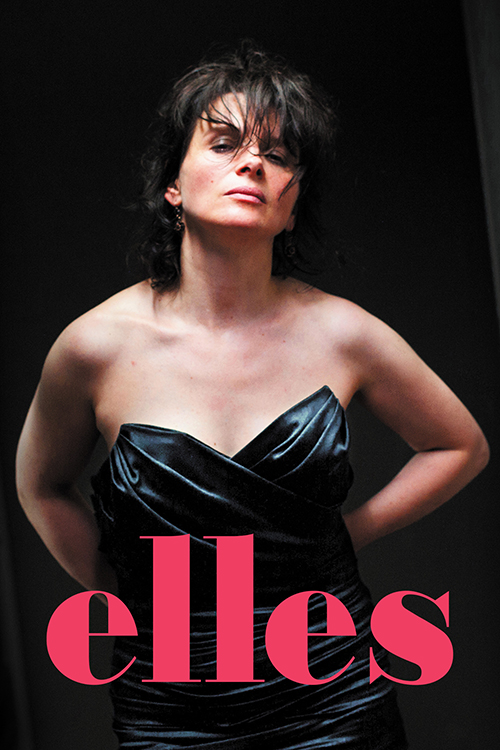 Elles
Directed by Małgorzata Szumowska
Year: 2011
Country: Poland, Germany, France
Language: French and Polish with English subtitles
A provocative and raw exploration of female sexuality, director Malgoska Szumowska's ELLES paints an unromantic picture of upper-crust domesticity refracted through the vibrant eroticism of prostitution.

Vacillating between opposing worlds defined alternatively by sexual freedom and constraint, ELLES stars the fearless Juliette Binoche (Chocolat) as Anne, a well-off Parisian journalist investigating the lives of two student prostitutes (Joanna Kulig and Anaïs Demoustier) for a magazine article. What begins as a routine assignment shaped by preconceived notions quickly turns personal, as Anne is drawn into the lives of these fiercely independent young women and forced to confront her own sexual fears and desires.

A bold examination of poverty and privilege, age and youth, ELLES draws into question the loneliness, sterility, and isolation that plague marital life and stifle sensuality.
"The deeply felt moment-to-moment experience of a woman...played with astonishing sensitivity and commitment by Binoche." - Stephen Holden, The New York Times
"Most remarkable as a naturalistic portrait of a woman...one of [Binoche's] rawest performances." - Mark Jenkins, NPR
"An essay on women's roles in society and cross-generational female desire...it's tempting to call Elles some kind of thinking-person's sex movie." - Mark Olsen, The Los Angeles Times

"Racy and often sexy...simmers with an old-school feminist anger." - Alison Willmore, The A.V. Club
"[A] sharp honest take on female friendship and sexuality...richly explores this landscape of desire." - Susanna Locascio, Filmmaker Magazine
---
Cast
Juliette Binoche
Anaïs Demoustier
Joanna Kulig
Louis-Do de Lencquesaing
Andrzej Chyra
Crew
Executive Produced by Jacek Drosio and Françoise Toumen
Cinematographer Michal Englert
Art Director Pauline Bourdon
Writers Tine Byrckel and Małgorzata Szumowska
Produced by Marianne Slot
Directed by Małgorzata Szumowska