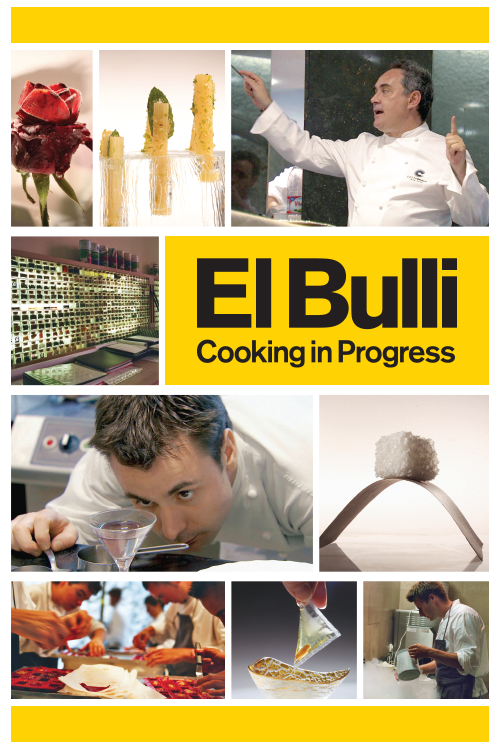 El Bulli: Cooking in Progress
Directed by Gereon Wetzel
Year: 2011
Country: Germany
Language: Catalan with English subtitles
EL BULLI: COOKING IN PROGRESS is a revealing look inside the kitchen of renowned Spanish chef Ferran Adria that Film Threat calls "an insider look at something very few have ever had the pleasure of experiencing."

Located in Catalonia, Spain, Adria's restaurant "El Bulli" closes for six months each year while Adria and his team of culinary experts prepare a fresh, surprising menu for the next season. Not content just to offer the same menu, Adria's approach involves a scientific level of research and development to offer a variety of dishes that have never been experienced before. Filmmaker Gereon Wetzel goes "behind the scenes" of the kitchen for an exciting glimpse into the creative process of the culinary arts, exploring the methods and approaches that go in to creating the perfect menu. Over the course of the six months, Adria pushes himself and his team to create new recipes, always innovating and never repeating themselves, and to deliver a 30-course menu that his guests will never forget.

From the inception of new recipes, through experimentation and creation, EL BULLI: COOKING IN PROGRESS gives audiences the chance to experience the process behind the wide tapestry of cuisine developed each year at El Bulli by master chef Ferran Adria.

As Adria himself puts it, "the more bewilderment, the better!"
"CRITICS' PICK! Fans of shows like Top Chef are well advised to check out this fascinating and artful look at the meticulous research-and-development process for the experimental dishes at El Bulli, where every unique dish came with plentiful bragging rights." - New York Magazine
"It's cooking like you've never seen." - Charlotte Druckman, The Wall Street Journal
"For a foodie, the new film about Spain's renowned El Bulli restaurant is a bit like an Angelina Jolie movie for a teenage boy... Food lovers can now salivate via celluloid. El Bulli: Cooking in Progress, a meticulous exploration of how this famously avant-garde eatery comes up with its insanely inventive creations...for those passionate about the artistry and indeed the science of cooking, it's dangerously close to porn. There are some unintentionally very funny moments, like when two chefs go to the local market and ask for five single grapes for their testing - and three beans" - Jocelyn Noveck, Associated Press
"By now there have been so many documentaries about restaurants that they form a film genre... But here now is El Bulli, which in some ways transcends them all, and poignantly serves as a memorial." - Stanley Kauffmann, The New Republic
"Molecular gastronomy rock star Ferran Adria's Catalonian culinary paradise... the culinary impossible is realized one painstaking step at a time." - Karina Longworth, Village Voice
---
Cast
himself
Aitor Lozano
himself
Eugeni de Diego
himself
Eduard Xatruch
himself
Oriol Castro
himself
Ferran Adriá
Crew
Executive Produced by Anja Pohl
Cinematographer Josef Mayerhofer
Composed by Stephan Diethelm
Produced by Ingo Fliess
Directed by Gereon Wetzel