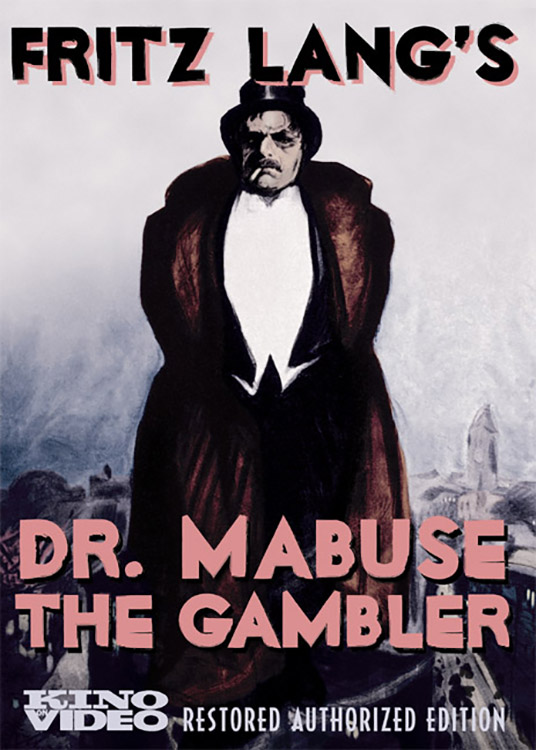 Dr. Mabuse The Gambler
Directed by Fritz Lang
Year: 1922
Country: Germany
Language: Silent with English intertitles
The authorized version of Fritz Lang's 1922 film DR. MABUSE, THE GAMBLER , mastered from a 2000 restoration conducted by the Friedrich-Wilhelm-Murnau-Stiftung, and using existing camera negatives from the Bundesarchiv-Filmarchiv, Berlin, and the Filmmuseum in Stadtmuseum, Munich. Featuring extra footage (which reveals more plot information, more close-ups, and a decidedly more provocative and lurid atmosphere), this DVD of Dr. Mabuse, the Gambler shows not only the longest available version of the film, but the one which most closely represents Lang's original vision.

A truly legendary silent film, DR. MABUSE, THE GAMBLER had a major impact on the development of the crime thriller, building upon the work of the pioneering French film serialist Louis Feuillade (Les Vampires) and firmly establishing it as a significant film genre. This epic two-part tale was originally released as two separate films, respectively subtitled The Great Gambler and Inferno, and that format is reproduced here.

The plot revolves around the pursuit of arch fiend Dr. Mabuse, a gambler, hypnotist, master of disguises and all-around criminal mastermind. Mabuse was the prototype for the sort of evil genius super-villains that would later become common in movies, whether it be in the James Bond pictures or in comic book adaptations like Superman and Batman. The film is dominated by the presence of Rudolf Klein-Rogge as Mabuse. A top German actor of the silent era, he is best known today for his performance as the mad scientist Rotwang in Lang's Metropolis.

DR. MABUSE, THE GAMBLER contains many of the elements that were expected from the crime genre at the time, including characters who slip in and out of disguise, mind control, gambling clubs, exotic women, brutal henchmen and unexpected plot twists. Lang's directorial ability to handle such pulp material in a masterful fashion, while also using it as a way to examine the decadence of Germany in the 1920s, reaffirms his status as one of the true greats of the silent era.
"Dr. Mabuse The Gambler represents Fritz Lang at the top of his game, it's an exciting and suspenseful serial-like story that is as fascinating as it is entertaining. ...Highly recommended."
---
"If you think James Bond wrote the book on spies and exotic thrills, check out the silent crime thriller Dr. Mabuse: The Gambler. It has far-flung locations, beautiful women, stunts and a villain worth hissing at, played by Rudolf Klein-Rogge with relish. This is the two part edition, not the truncated all-in-one version and worth every cliffhanger. Pure pleasure in a print that's likely superior to what most people saw back in 1922! Lang returned to this iconic baddie a decade later and again in 1960 but he never topped this."
---
"Fritz Lang's 'Dr. Mabuse, the Gambler' (1922) was one of the first films to explain modern society as the creation of a master criminal - it's not likely that you've seen them in their full form. "Mabuse," for example, was cut almost in half for its original American release and has been available only in a partly restored 213-minute version from Image Entertainment. Kino's new double-disc set is 270 minutes long and has superb photographic quality, with images drawn from original camera negatives in the German archives." Dave Kehr, The New York Times
---
Cast
Robert Forster-Larrinaga
Paul Richter
Bernhard Goetzke
Hans Adalbert Schlettow
Gertrude Welcker
Aud Egede Nissen
Rudolf Klein-Rogge
Alfred Abel
Crew
Writer Thea von Harbou
Composed by Alijoscha Zimmermann
Directed by Fritz Lang