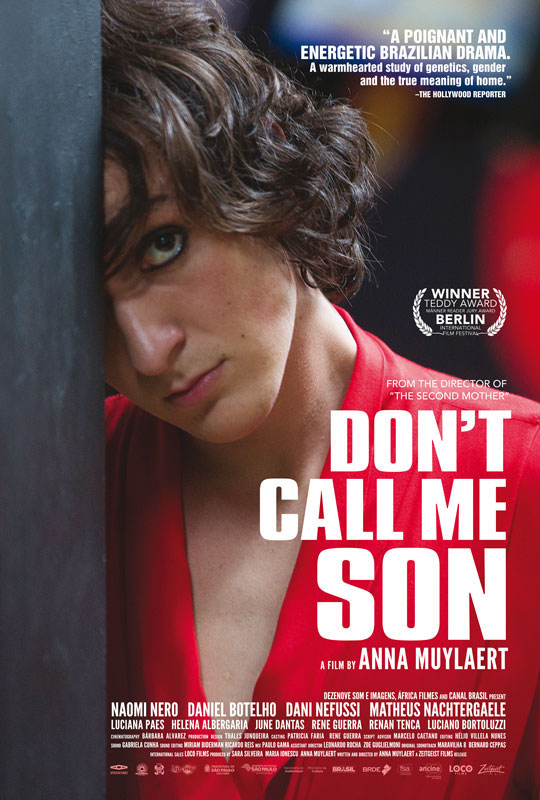 Don't Call Me Son
Directed by Anna Muylaert
Tall, dark, androgynously handsome, Pierre wears eyeliner and a black lace g-string, while having sex with both boys and girls. The confusion only goes deeper when the teenager's single, working-class mom is arrested for having stolen him (and his "sister") at birth. Thanks to the wonders of DNA, he's returned to his biological parents: bourgeois, straight-laced and thrilled to have him back -- at least until he shows up in a zebra-print mini dress. The turmoil of adolescence is plumbed with wit and compassion by writer/director Anna Muylaert, whose earlier film, THE SECOND MOTHER, also dealt with familial loyalty and class tensions. Actress Dani Nefussi gives completely believable knock-out performances in the role of both mothers, and newcomer Naomi Nero defies expectations as a broodingly intense, potentially volcanic six-footer in stiletto heels. –Karen Cooper, Director, Film Forum
CRITICS' PICK! A fascinating, sympathetic portrait of a lost boy abruptly thrown to the wolves. A scathing critique of upper-middle-class complacency and materialism. A critique of identity on several levels: biological, sexual, social, cultural and class-related. DON'T CALL ME SON is subversive.
---
Terrifically assured and engrossing. A filmmaker of remarkable range, subtlety and intelligence - a Brazilian talent who's deservedly gaining a place on the world stage.
---
Both unsettling and refreshing. Startling and touching. The subversiveness of Jean Renoir's BOUDU SAVED FROM DROWNING rubs up against the normality of John Waters's PINK FLAMINGOS. (The film is) altogether queer and trans and humanist.
---
Nero...uses his body's language to communicate the internal conflicts in a marvelous, haunting performance that culminates in powerful confrontation. Nefussi is remarkable in the double role of Aracy and Gloria. A powerful and provocative drama.
---
A poignant and energetic Brazilian drama that turns a potentially bleak subject into a warmhearted study of genetics, gender and the true meaning of home.
---
It's [Muylaert's] refusal to preach to her audience that makes the film resonate, and it's her insistence on treating each character equally which makes Don't Call Me Son so essentially human.
---
A humane portrait of teenage angst… as attuned to class as it is to gender and sexuality.
---
Beautifully acted and superbly written, Don't Call Me Son is a little gem of a film that needs to be seen widely.
---
Powerful and poignant... A sensitive and honest exploration of just what family means
---
Muylaert handles the story with a great deal of sensitivity. Namoi Nero, a total newbie, in the role of Pierre/Felipe, really pays off quite brilliantly. Both mothers (are) played by a remarkably talented Nefussi
---
One hell of an awkward family situation. Funny… and always crackling with electricity, in large part due to the lead performance from a magnetic Naomi Nero.
---
Crew
Directed by Anna Muylaert