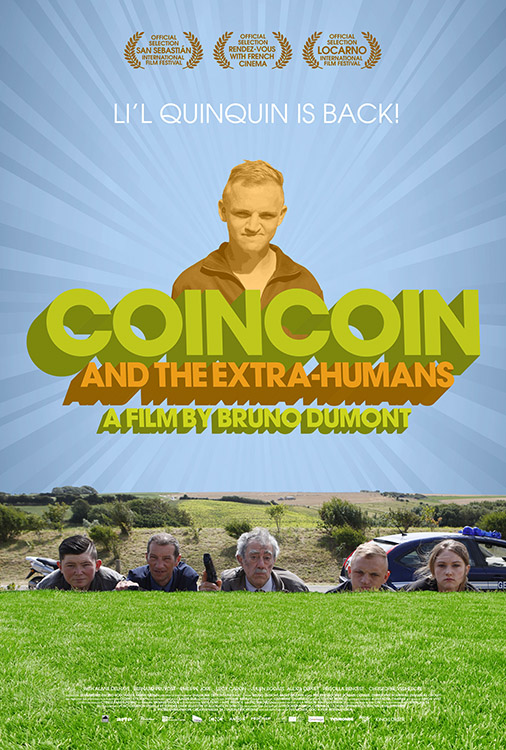 Coincoin and the Extra-Humans: Episode 4 - The Apocalypse
Directed by Bruno Dumont
Year: 2019
Country: France
Language: French with English subtitiles
Hit hard, our unwavering representatives of law and order decide to take the extraterrestrial bull by the horns. But how to go about this when they have completely lost their bearings? When the dead start rising from the grave? Even Coincoin and his gang, hesitating between fear and exaltation, find themselves riding the merry-go-round of a general free-for-all.

"Pruvost's performance as Van Der Weyden once again binds everything together. He's a captivating collection of physical ailments and bodily tics that feels like a combination of Jack Sparrow, Inspector Clouseau, and Charlie Chaplin – though such comparisons seem reductive when he, like the rest of this world, feels utterly unique."
---
"Coincoin's parade of the nonsensical still possesses a delightful pageantry."
---
"Pruvost's performance reaches the heights of the great Peter Sellers. Coincoin is even better than the series that preceded it."
---
"There is much to enjoy in this deeply funny dissection of small-town oddness and the endlessly fascinating figures who populate it. Dumont offers audiences a confounding experience, but one that gets funnier and funnier with each passing moment."
---
Cast
Alane Delhaye
Bernard Pruvost
Philippe Jore
Lucy Caron
Crew
Directed by Bruno Dumont