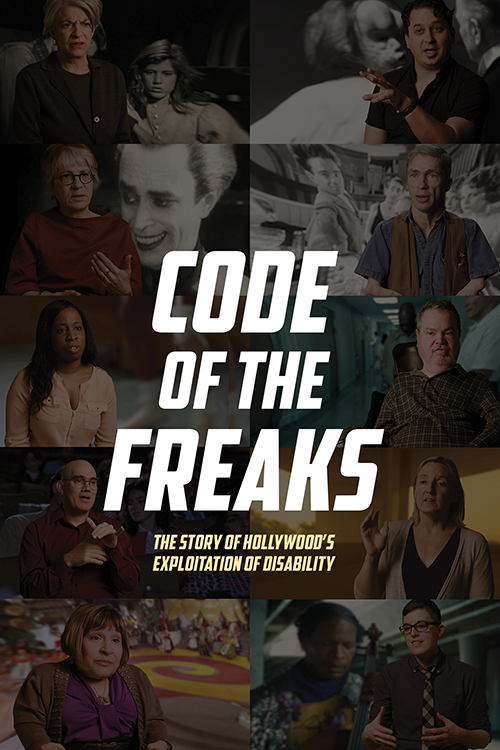 Code of the Freaks
Directed by Salome Chasnoff
Year: 2020
Country: U.S.
Language: English
English Closed Captions
CODE OF THE FREAKS presents a radical reframing of the use of disabled characters in film. Using hundreds of clips spanning over 100 years of moviemaking, and a cast of disabled artists, scholars and activists, it's a scorching critique of some of Hollywood's most beloved characters. This revelatory documentary investigates the power of movie imagery to shape the beliefs and behaviors of the general public toward disabled people, and of disabled people toward themselves. Drawing its title from a line from Tod Browning's notorious 1932 film, Freaks, CODE OF THE FREAKS debunks well-worn tropes – the miracle cure, the blind guy driving a car, the magical little people, the face-feelers, the sexless, the better off dead – and brings an entirely fresh perspective. It dares to imagine a cinematic landscape that centers the voices of disabled people.
Cast
Lawrence Carter-Long
Candace Coleman
Mike Ervin
Mat Fraser
Timotheus Gordon, Jr.
Tsehaye Geralyn Hebert
Tekki Lomnicki
Crom Saunders
Rive Lehrer
Tommy Heffron
Crew
Directed by Salome Chasnoff
Writers Susan Nussbaum, Alyson Patsavas and Carrie Sandahl
Produced by Salome Chasnoff, Susan Nussbaum, Alyson Patsavas, Jerzy Rose and Carrie Sandahl