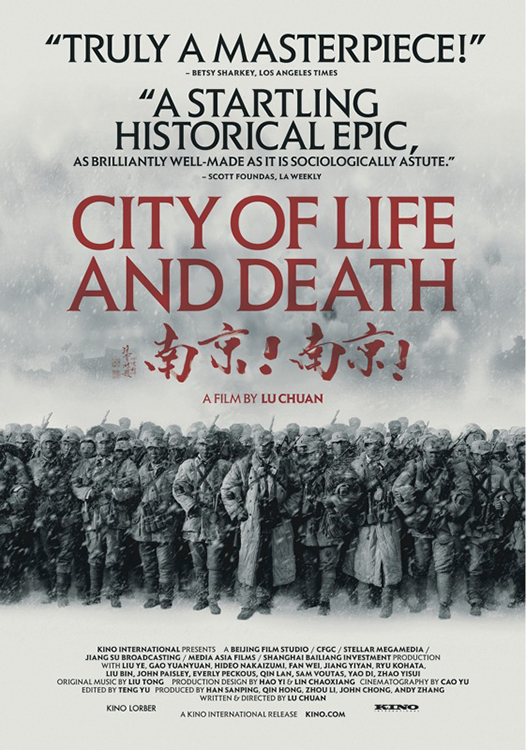 City of Life and Death
Directed by Lu Chuan
Year: 2011
Running Time: 135 minutes
Country: China, Hong Kong
Language: Mandarin with optional English Subtitles
CITY OF LIFE AND DEATH, a stunning depiction of the Rape of Nanking, is "a film strong enough to change your life" (Kenneth Turan, Los Angeles Times).

Director Lu Chuan (Mountain Patrol) based the film on the recorded witness testimony from the real-life survivors of the massacre, meticulously recreating the infamous reign of terror conducted by the occupying Japanese army in the Chinese capital of Nanking in 1937. The first big-budget fiction film by the Chinese to deal with this seminal event, CITY OF LIFE AND DEATH paints an epic portrait of wartime conflict, filled with an ensemble of conflicted characters caught in the crossfire, including Chinese officer Lu (Liu Ye), who leads his men in a hopeless, defiant resistance effort; the German businessman, John Rabe (John Paisley), who establishes a safety zone in an attempt to protect civilians; and Japanese soldier Kadokawa (Hideo Nakaizumi), who struggles to live with his conscience in a city where executions are commonplace.

Lu is "an extraordinary visual artist" (Manohla Dargis, NY Times), and CITY OF LIFE AND DEATH contains searing B&W images that are impossible to shake, creating an unforgettable masterpiece of contemporary world cinema.
"The enormity of Lu's achievement is striking, both in the grandness of the film's staging and in its engagement with the chaos of war...[Director Lu Chuan] wriggles out of convention where he can, especially in the first half, and engages with history as an artist, not a hagiographer." - Scott Tobias, AV Club

"A shattering tale...an important film to see" - Stephen Whitty, The Star-Ledger

"Lu's picture of cumulative inhumanity has unflinching, nightmarish strength." - Bill Weber, Slant Magazine

"Harrowing and unflinching...City of Life and Death is a cinematic experience unlike any you've had before. It's a film strong enough to change your life" - Kenneth Turan, LA Times

"A muscular, physical movie, pieced together from arresting imagery and revelatory gestures, large and small." - Michael O'Sullivan, The Washington Post

"Chinese filmmaker Chuan Lu has tackled a vast and ambitious subject in City of Life and Death...Lu has used the dramatic form to personalize this story and fashion a powerful, multilayered film that shows what ordinary human beings are capable of in extreme circumstances." - Leonard Maltin, Movie Crazy

"A drama that could pass for a documentary...Lu Chuan's epic film is harrowing in the extreme...As an act of remembrance, though, it is singular and, in its way, soaring." - Joe Morgenstern, The Wall Street Journal

"Among the greatest war films ever made...[City of Life and Death] isn't merely one of the year's best films, it's a powerful work of art and a testament to the expressive essence of pure cinema." - Jay Antani, Moving Pictures Network

"A startling historical epic, as brilliantly well-made as it is sociologically astute." Scott Foundas, LA Weekly
---
Cast
Kadokawa
Hideo Nakaizumi
Miss Jiang
Yuanyuan Gao
Lu Jianxiong
Ye Liu
Crew
Writer Lu Chuan
Produced by Hong Qin, Sanping Han, Li Zhou, John Chong and Andy Zhang
Directed by Lu Chuan