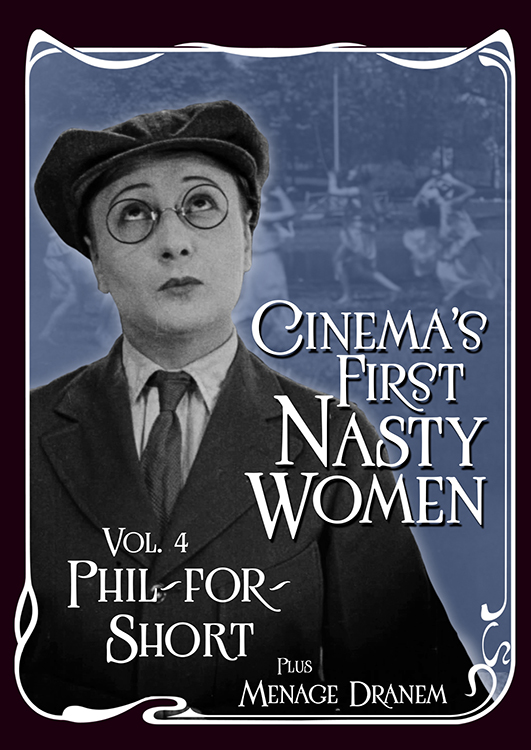 Cinema's First Nasty Women Vol. 4: Phil for Short
Directed by Oscar Apfel
Year: 2022
Country: U.S., France
Language: Silent (with English intertitles)
Rarely-seen silent films about feminist protest, slapstick rebellion, and suggestive gender play. These women organize labor strikes, bake (and weaponize) inedible desserts, explode out of chimneys, electrocute the police force, and assume a range of identities that gleefully dismantle traditional gender norms and sexual constraints. The films span a variety of genres. CINEMA'S FIRST NASTY WOMEN includes European and American silent films, produced from 1898 to 1926, sourced from thirteen international film archives and libraries, with all-new musical scores.

Vol. 4 - Phil-for-Short plus Le ménage Dranem (The Dranems)

Phil-for-Short (US 1919), 82 min. 

Sappho-loving Damophilia (Evelyn Greeley) and woman-hating John Alden are both Greek Professors who free-fall toward the aisle in this comedy about gender play and modern romance. After her father dies, "Phil" (for short) runs away while impersonating her alleged twin brother in order to avoid an arranged marriage and to seduce Alden, a polyglot misogynist who is petrified of women. Co-written by Clara Beranger, a prolific scriptwriter with over eighty credits to her name, the film's dialogue crackles with innuendo: "My husband's all right, but he's not vital." It was even banned in Illinois for allegedly being "too nice."

Le ménage Dranem (The Dranems) (France 1912) 10 min.

Monsieur Dranem cooks, cleans, and sews "comme un éléphant qui enfilerait une aiguille" ("like an elephant threading a needle"), as per Ciné-Journal, while his militant wife gambols in pantaloons, smokes pipes, drinks pints, plays cards (with "Léontine"), and assaults her cowed spouse. As summarized by Ciné-Journal, Madame "emprunte au sexe forttous ses défauts, sans ses qualités" ("borrows from the stronger sex all its faults without any of its qualities' '). Despite the film's conservative ending that restores normative gender roles ad absurdum, the binds of assigned identity will never look or feel the same again.
Cast
Evelyn Greeley
Charles Walcott
James A. Furey
Crew
Directed by Oscar Apfel
Writer Clara S. Beranger