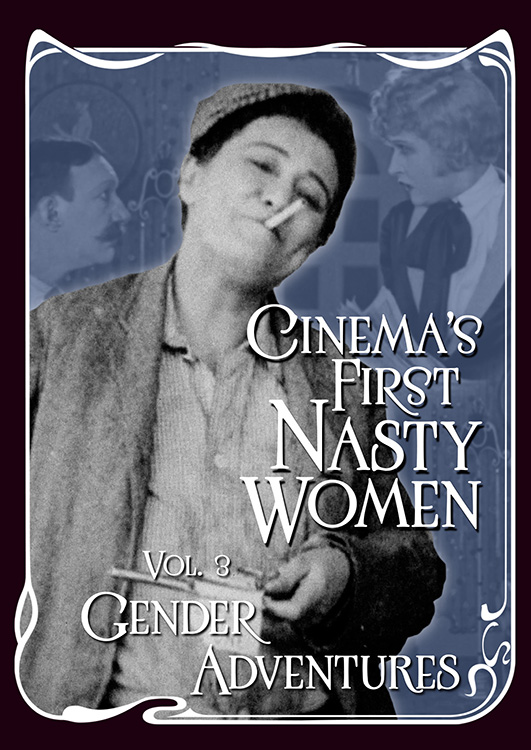 Cinema's First Nasty Women Vol. 3: Gender Adventures
Directed by Sidney Olcott, Wallace McCutcheon, D. W. Griffith, Richard Wallace, and James Young Deer
Year: 2022
Country: U.S.
Language: Silent (English intertitles)
Rarely-seen silent films about feminist protest, slapstick rebellion, and suggestive gender play. These women organize labor strikes, bake (and weaponize) inedible desserts, explode out of chimneys, electrocute the police force, and assume a range of identities that gleefully dismantle traditional gender norms and sexual constraints. The films span a variety of genres. Cinema's First Nasty Women includes European and American silent films, produced from 1898 to 1926, sourced from thirteen international film archives and libraries, with all-new musical scores.

Vol. 3 Gender Adventures - From the Old West to the (now not so) distant future, women take center stage and drive the action in this program of adventures (80min).

The Red Girl and the Child (US 1910), 17 min.

Lillian St. Cyr was a citizen of Ho-Chunk Nation who performed in more than 70 films, most of which are not known to survive. In 1910, she appeared in The Red Girl and the Child. To return a kindness to Dick Sutton, the man who saves her from racialized harassment by Bill, a racist cattle rustler, she dresses as a man and steals back the toddler. She flees Bill and his henchmen on horseback, scrambles up a mountain, pulls herself across a gully, all with the toddler on her back. Red Girl returns the child to her parents and is every bit the hero of the film.

The Girl Spy Before Vicksburg (US 1910), 14.5 min.

The Film Index called this "perhaps the most hazardous feat of the plucky girl" and "positively the climax of reckless, nervy action." In this film from the "Girl Spy" series, Nan (Gene Gauntier) is again summoned to the Confederate regiment, who has recently found out about a Union wagon carrying ammunition. Nan is outfitted with a Union uniform and tasked with blowing up an ammunition wagon. She escapes through a daring chase through water and other natural landscapes. Nan's worried mother is also featured throughout this film.

A Range Romance (US 1911), 12.5 min.

A Brokeback Mountain for the silent era! This love story follows a ranch foreman and a young ranch hand who turns out to be a girl in disguise. After an argument, Bob takes his young daughter Bessie out West with him, where she lives as a boy. When they find work on a ranch, the disguised girl and the ranch foreman fall in love. By coincidence, the ranch replaces a Chinese cook (in yellow face) with Bessie's estranged mother, Mary. The estranged couple reunites on the same day that the foreman proposes marriage. This film was one of many suggesting that a frontier boyhood could make white girls into physically vital adult women. These films simultaneously made visible and disavowed romantic relationships between men on the frontier.

The Boy Detective (US 1908), 8 min.

Biograph announced this film as the first in a series of "film stories recounting the experiences of Swipesy, the newsboy, whose acute sagacity wins for him fame as a juvenile Sherlock Holmes." Swipesy trails two kidnappers and outsmart them by impersonating the woman they mean to kidnap and using a cigarette case shaped like a pistol to hold them at bay. In a short epilogue, we see Swipesy in a medium close-up for the first time, which reveals that this "boy" detective is played by a young woman. Unfortunately, this is the one and only Swipsey film known to have been made.

Pranks (US 1909), 5 min.

While a couple is swimming, two prankster boys switch their clothing. They don each other's garments and chase the tricksters, running by two pansies canoodling in a park—perhaps the first surviving example of an explicitly gay couple in  American cinema! Frequent Biograph performers Billy Quirk and Henry B. Walthall play the pansies. They imitate established pansy gestures of limp wrists, splayed hands on hips, and tight clothes (plus Quirk's characteristic flipped-up hat, which his sissy character in Alice Guy-Blaché's Algie the Miner also wears). In the end, the cross-dressed man saves his cross-dressed wife from a tramp and the couple embrace, still in their gender-crossed clothing.

What's the World Coming To? (US 1926), 23 min.

This farce takes place "One hundred years from now—when men have become more like women and women more like men." A "blushing groom" named Claudia approaches the altar, where his flapper fiancée, Billie, and her manly "best woman" await. The dashing Lieutenant Penelope (a spitting image of lesbian author Radclyffe Hall) interrupts the ceremony, to no avail. She later courts Claudia, who is feeling abandoned by his playboy wife. The literal arrival of a stork restores harmony. The clothing and hairstyles in this film playfully evoke real-life lesbian icons of the period and the film repeatedly pairs women together in the frame, offering a series of Sapphic winks to the wise.
Cast
Lillian St. Cyr
Gene Gauntier
Katherine Grant
Martha Sleeper
Lyle Tayo
Crew
Directed by James Young Deer, Sidney Olcott, Wallace McCutcheon, D. W. Griffith and Richard Wallace