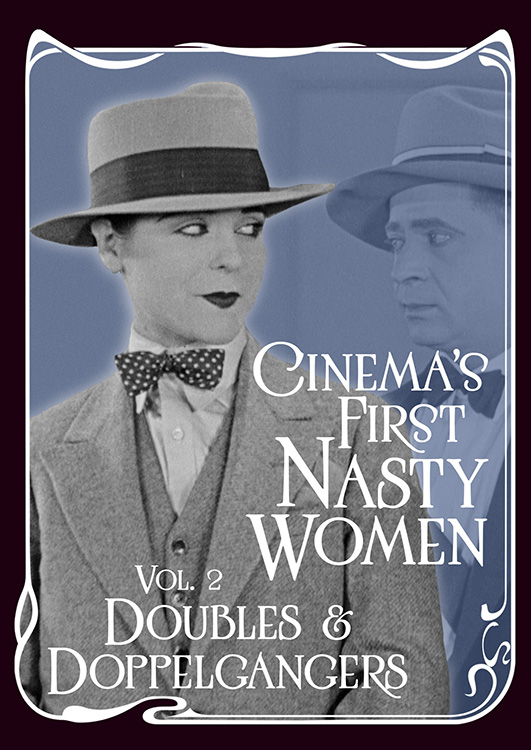 Cinema's First Nasty Women Vol. 2: Doubles and Doppelgangers
Directed by Romeo Bosetti, Jean Durand, Jay Hunt, Marcel Perez, and Florence Turner
Year: 2022
Country: U.K., Italy, France, U.S.
Language: Silent (with English intertitles)
Rarely-seen silent films about feminist protest, slapstick rebellion, and suggestive gender play. These women organize labor strikes, bake (and weaponize) inedible desserts, explode out of chimneys, electrocute the police force, and assume a range of identities that gleefully dismantle traditional gender norms and sexual constraints. The films span a variety of genres including slapstick comedy, genteel farce, the trick film, cowboy melodrama, and adventure thriller. CINEMA'S FIRST NASTY WOMEN includes European and American silent films, produced from 1898 to 1926, sourced from thirteen international film archives and libraries, with all-new musical scores.

Vol. 2 - Doubles and Dopplegangers (80 min). Here, the comic mayhem comes with an extra twist of trickery, deceit and disguise.

Daisy Doodad's Dial (UK 1914), 8.5 min.

A bored housewife, Daisy (Florence Turner), trains day and night to compete in an amateur face-making competition. When she injures her mimetic muscles, her spouse showboats his way to glory. Another opportunity presents itself and Daisy will stop at nothing to win the prize. Unfortunately, she is arrested for public indecency after terrifying strange men with her comical grimaces. Forced to quarantine in her bedroom (a reference to the notorious "the rest cure"), Daisy is tormented by nightmarish superimpositions of her own hysterical automatism. Co-directed by Florence Turner, America's first movie star (aka "The Vitagraph Girl"), Turner continued to appear in films through the 1940s.

Léa bambola (Lea as a Doll) (Italy 1913), 6 min.

Not wishing to marry the woman his father has chosen for him, Louis convinces the girl he loves to impersonate a mechanical doll to trick his parents into allowing her to sign the marriage certificate instead. Lea is enthusiastic to participate in the ruse and fools the wedding guests into allowing her to sign the papers. Lea and Louis celebrate as the bride-to-be (played by a man in drag) faints from the shock.

Zoé et la parapluie miraculeux (Zoé and the Miraculous Umbrella) (France 1913), 4 min.

Zoé the kitchen maid (Little Chrysia) steals a magic umbrella from a stage performer that will abundantly reproduce any good or commodity one wishes. Altruist that she is, Zoé wields the umbrella to compensate for her own clumsy mistakes, conjuring more water for the gardener and new chairs for her employers (to replace the one that she broke). Too many things quickly create total disaster. The discovery of this film on 28mm stock in 2019 provided the ultimate proof that Little Chrysia indeed moved to Pathé Comica in Nice (after working for Lux), where she was the star of this five-episode Zoé series that had been falsely attributed to Regina Badet.

Le Rembrandt de la rue Lepic (The Rembrandt in Rue Lepic) (France 1911), 5.5 min.

In Montmartre, a couple buys what they think is a real painting by Rembrandt. But in a typical fashion for Jean Durand and his troupe of acrobats, the film soon turns into a destructive chase of unbelievable proportions. Often called the "Pouittes," Durand's troupe included circus performers and was featured in dozens of comedies shot in and around Paris between 1911 and 1914. In this film, a woman (played by a man in drag) ruins the couple's painting, causing a chaotic chase scene down the stairs and in and out of a small apartment building, where they wreak havoc in their wake. At the end, the painting is revealed to be a forgery, troubling the cultural values attributed to high art, which combined with popular tropes (slapstick, gender burlesque) turns into another farcical joke.

Onésime et la toilette de mademoiselle Badinois (Onésime and Mademoiselle Badinois' Outfit) (France 1912), 7.5 min.

Mlle Badinois eagerly awaits the delivery of a new party dress and instructs her maid Petronella to receive it during her absence. But Petronella cannot resist borrowing the elegant dress for a rendezvous with her lover, Onésime. Here is a film that pretends to be about a man, but the driving force throughout is Petronella (Ellen Lowe). The real title should be Petronella and Ms. Badinois' Elegant Dress. This pattern of assigning the action to the perhaps better- known male comedian, while the actress in the film does all the heavy-lifting, is a recurring one in silent comedy series. But it's completely misleading, especially when the films remain lost. Luckily, Lowe sets the record straight.

La peur des ombres (Fear of Shadows) (France 1911), 4 min.

In a playful, reflexive take on the familiar "last-minute rescue" formula, a woman and her housekeeper left alone at home is-read shadows projected from the street outside and fear a violent assault. Male police officers dispatched to rescue them correctly diagnose the situation, with hilarious results, including a late gender reveal.

Amour et science (Love and Science) (France 1912), 14 min.

A delightful comedy about the confrontation between a scientist preoccupied with a futuristic video telephone and a shrewd, vengeful heroine. Daisy (Renée Sylvaire) forces her inattentive fiancé Max to witness a rendezvous with a fictitious rival (played by her female friend in drag) over his newly invented video telephone. As a result, Max is deeply traumatized. Fortunately, Daisy succeeds in healing him with the help of a film production company and a gender reveal. Amour et science celebrates female agency, while raising fascinating questions about the nature of moving images that remain topical in today's media environment. The film calls attention to the concurrence of the damaging and therapeutic potentials of moving images. It also exposes the deceptiveness of technological media, which are all-too often mistaken as evidence of an objective truth. By highlighting their impact and manipulability, the film affirms moving images as effective instruments of power.

The Death Mask (US 1914), 21 min.

Running Wolf (Sessue Hayakawa) refuses to marry within his tribe, focusing instead on a mysterious woman (Tsuru Aoki) from his dreams. He sets out to find a fierce northern tribe ruled by three brothers (one of whom wears a terrifying mask) and a beautiful sister. Running Wolf defeats the first two brothers, but the masked brother flees. Caught and unmasked by Running Wolf, the maiden confesses that there is no third brother: "my brothers forced me to play the part." The two escape the pursuing tribe by jumping from a cliff into a river and swimming away. The intertribal melodrama imagines a schematic binary between primitive and civilized, for example contrasting Running Wolf's ornamented clothing with the skins worn by the far north tribe. Tsuru Aoki and Sessue Hayakawa (Japanese-American actors in red face) perform the heterosexual romance as a bridge between these tribes, while many of the supporting players appear to be Lakota actors from Thomas Ince's Bison 101 company.

She's a Prince (US 1926), 26.5 min.

Alice Ardell, a Parisian comedienne who made masculine-styled clothing part of her stock-in- trade, plays Alice, an initiate to "Fi Delta Pie, a Flapper's secret society." The initiation provides an opportunity for a succession of disorienting rituals, masquerades, and mistaken identities (including two racist blackening gags). Alice makes her way through a mysterious funhouse full of mirrors and statues that come to life. She is magically put into men's clothing, then instructed to go to the Palace Hotel, where she and visiting fashion icon Prince Ferdinany are repeatedly mistaken for one another. A series of chases, misunderstandings, and accidental same- sex flirtations ensue and the erstaz prince starts a new fashion for men's girdles.

Cast
Florence Turner
Lea Giunchi
Little Chrysia
Berthe Dagmar
Ellen Lowe
Renée Sylvaire
Tsuru Aoki
Alice Ardell
Crew
Directed by Florence Turner, Romeo Bosetti, Jean Durand, Jay Hunt and Marcel Perez