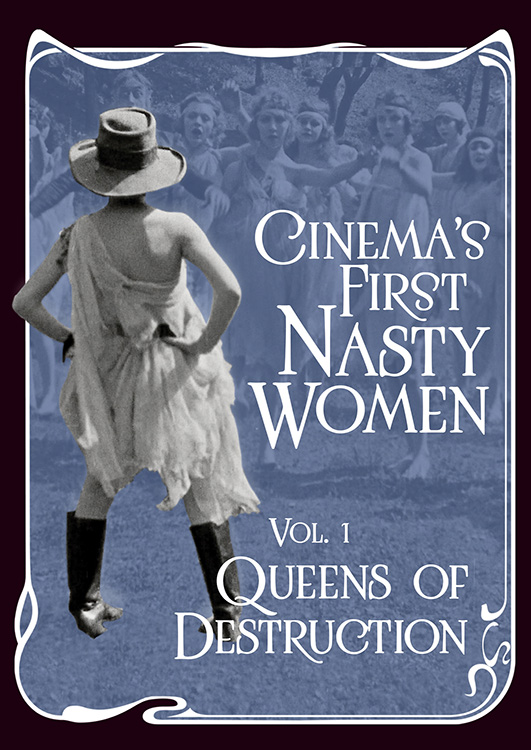 Cinema's First Nasty Women Vol. 1: Queens of Destruction
Directed by George Albert Smith, Al E. Christie, Romeo Bosetti, Lewin Fitzhamon, and André Heuzé
Year: 2022
Country: France, U.K., U.S.
Language: Silent (English intertitles)
Rarely-seen silent films about feminist protest, slapstick rebellion, and suggestive gender play. These women organize labor strikes, bake (and weaponize) inedible desserts, explode out of chimneys, electrocute the police force, and assume a range of identities that gleefully dismantle traditional gender norms and sexual constraints. The films span a variety of genres. CINEMA'S FIRST NASTY WOMEN includes European and American silent films, produced from 1898 to 1926, sourced from thirteen international film archives and libraries, with all-new musical scores.

Vol 1: Queens of Destruction - Chaos reigns in this program of delirious slapstick; 92 min.

Le bateau de Léontine (Léontine's Boat) (France 1911), 5 min.

Léontine cannot resist her desire to sail her new toy boat indoors. She plugs up the drains and turns on the faucets, flooding the house as water rains down through the floorboards and collapses the ceilings. When this film screened in Chichester, England, it was paired with a tinted actuality about canal and river flooding in colonial Siam. Yikes! The juxtaposition between Titine's euphoric enjoyment upstairs and the total apocalyptic devastation below gives carnivalesque aesthetic form to the rising social inequality and looming destruction that engulfed Europe by 1911, rebounding to the continent from its exploited colonial territories.

Tilly's Party (UK 1911), 7 min.

This film is part of the "Tilly Girl" series (1910-1915) starring Chrissie White and Alma Taylor. After careening a bicycle into unsuspecting party guests, Tilly and Sally are banished from the party by their father. Not to be discouraged, the pair embark on their own style of frenzied revelry. The sisters wreak havoc throughout the house, eventually roller-skating into a room full of upper-class women, knocking them over and causing a pile-up of rattled party guests. The delightful rampage turns into a high speed bicycle chase that ends with the sisters innocently practicing piano by the time the enraged mob bursts through the door.

Greve des nourrices (The Nursemaids' Strike) (France 1907), 12 min.

The nursemaids organize a general strike to protest their deplorable labor conditions. They march in the streets and clash violently with the police, who are no match for their collective feminist anger. Meanwhile, children organize a counter-protest and cow udders are enlisted as scab labor. Babies feed from cows through plastic tubes in the closing emblematic shot, which distills the film's central message: another world is possible. You may recognize several images from The Kitchen Maid's Strike (also in this set), filmed one year earlier by Pathé. It was not unusual for film companies to recycle their own scenarios (often with different actors or characters), but surprising that they would repurpose their own footage as well. We even see a duplicated scene here that had been lost (or cut) from surviving copies of Kitchen Maid's Strike.

Mary Jane's Mishap (UK 1903), 4 min.

A housemaid named Mary Jane combusts through the chimney after pouring too much paraffin wax on the fire. Her dismembered limbs rain down over the village skyline and she returns as a dancing specter to haunt her own gravestone, which has the memorable epitaph: "Here lies Mary Jane—Rest in Pieces." Formally innovative for its piecemeal aesthetics, the film stars Laura Bayley, prolific stage performer and energetic participant in the Brighton School of early film pioneers. You can see her burlesque virtuosity in other early titles including The Kiss in the Tunnel, As Seen Through the Telescope, and Let Me Dream Again.

La fureur de Mme Plumette (Madame Plumette's Fury) (France 1912), 5.5 min

Madame Plumette's husband goes on a fishing trip every month when she menstruates. Like clockwork he gaslights her hormones, foisting her furies on more proximate victims. The class dynamics of Madame's anger are messy, as she initially targets workers with less power than her. But she learns to punch up as the gags escalate, stampeding a frisky masher who harasses her in the street. Her maid (Ellen Lowe) saucily winks at the viewer, signaling our own ambivalent enjoyment. In the end, Madame is tied up and hosed down. By reviving this film, we unshackle her bones and unbind her anger.

Rosalie et son phonographe (Rosalie and Her Phonograph) (France 1911), 4 min.

This tragically incomplete film creatively displays the pleasures of the still-new technology of the phonograph. Without any need for synchronized sound, Rosalie excitedly demonstrates her new record player to anyone and everyone who will listen. She brings joy and chaos in equal measure as even inanimate objects are unable to resist the temptation to get up and dance to the phonograph's infectious tunes. Léontine also makes a cameo appearance as one of the many unsuspecting people caught up in the chaotic dance inspired by Rosalie's phonograph.

Léontine s'envole (Léontine Gets Carried Away) (France 1911), 6 min.

Léontine is sent airborne by too many helium balloons and takes a catastrophic joyride across town, while her parents and the townsfolk frantically chase after her. Her journey is depicted with dazzling aerial views. This was the third to last film of the series, which innovated ever new ways to envision the hell-raising upheaval caused by Léontine's destructive excess of unmotivated enjoyment. Whether sailing a toy boat, playing leapfrog, or eating a snack (as she does in many other episodes in this set), Titine always finds a way to make it count. Ordinary habits pave the way to world-shattering catharsis.

Cunégonde femme crampon (Cunégonde the Nasty Woman) (FR 1912) 8.5 mins

This is probably the film in which we see the nastiest version of Cunégonde. At first glance, she is a sweet middle-class housewife tending to her embroidery, but she instantly transforms into a super-strong woman when her husband wants to go out alone. She throws a lasso from the window to pull him back into the apartment and performs all kinds of absurd stunts. Her husband declares the marriage over and leaves her locked in their living room, but Cunégonde is adamant to bring him back home against all odds. She frees herself by climbing out of the window, she hides in his trunk, smuggling herself directly into his hotel room! The French adjective 'crampon' is plausibly translated as 'nasty' in English, as it refers to an annoying, tenacious person, which is perhaps what US presidential hopeful Trump meant when he called Hillary Clinton a 'nasty woman.'

Rosalie emménage (Rosalie Moves In) (France 1911), 6 min.

Sarah Duhamel, known for her uniquely destructive slapstick characters Rosalie and Pétronille, tears down the boundaries of bourgeois domesticity in this witty comedy about the idiosyncrasies of life in an apartment building. While moving into her new rooms, the irrepressible Rosalie causes no small amount of chaos as she planes down the floors until they are too thin to bear any weight, then drive railroad spikes through the walls (and into neighbors' apartments) in an attempt to use them as picture hangers.

Léontine garde la maison (Léontine Keeps House) (France 1912), 8.5 min.

In a last gasp effort to school Titine in domestic labor, her parents entrust her with housesitting. She executes her obligations with catastrophic aplomb, shattering all the dishes in the gesture of cleaning them. She manages to flood and incinerate her entire home simultaneously. In a futile effort to find her baby brother and pet dog, she inherits a horde of stray canines and orphaned babies. This was the last episode of the series and it feels like a fitting conclusion. With her home in shambles and parents evacuated, Léontine becomes custodian to all the misfits of the next generation.

Rowdy Ann (US 1919), 23.5 min.

Played by lesbian actress Fay Tincher, cowgirl "Rowdy Ann" lassos her dad from the saloon, beats her suitor "Handsome Hank" in boxing, and shows off her gunmanship whenever she gets the chance. Her parents send her to a women's college "for to larn to be a lady!" On the train there, she terrorizes a Black porter who mistakes her sleeping cabin for his wife's. At the college, she shows up to Isadora Duncan-style barefoot dancing classes wearing cowboy boots and a gun slung around her waist, but she soon makes friends. Her lasso skills come in handy when she saves a classmate from a dire fate. No heterosexual coupling here—the film ends with a three-way girls' pillow fight! Tincher worked continuously from 1912 to 1928, appearing in more than 160 films. She ran her own company for a year and a half starting in 1918 and she lived to the age of 99.
Cast
Sarah Duhamel
Alma Taylor
Chrissie White
Laura Bayley
Ellen Lowe
Little Chrysia
Fay Tincher
Katherine Lewis
Margaret Gibson
Crew
Directed by Romeo Bosetti, Lewin Fitzhamon, André Heuzé, George Albert Smith and Al E. Christie