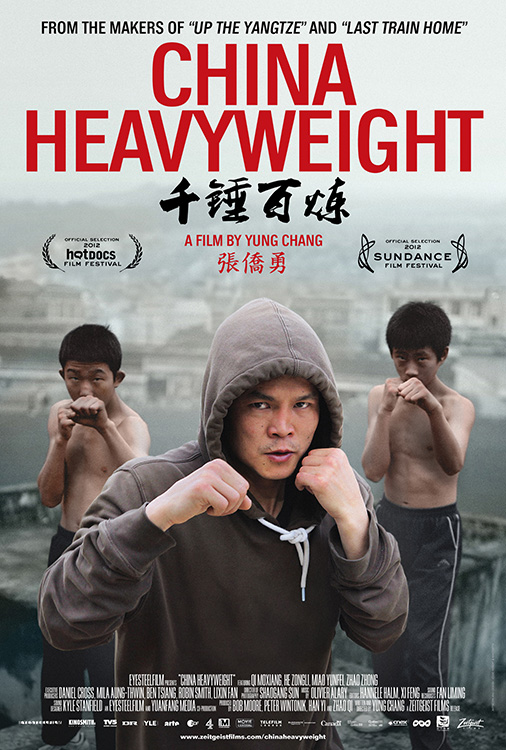 China Heavyweight
Directed by Yung Chang
Award-winning filmmaker Yung Chang (Up the Yangtze) returns to China for another riveting documentary on that country's ever-changing economic landscape—this time through the lens of sports. In CHINA HEAVYWEIGHT, Chang follows the charismatic Qi Moxiang, a former boxing star and state coach who recruits young fighting talent from the impoverished farms and villages across Sichuan province. A select few boys (and girls) are sent to national training centers, with the hope of discovering China's next Olympic heroes. But will these potential boxing champions leave it all behind to be the next Mike Tyson? Their rigorous training, teenage trials and family tribulations are expertly intertwined with Coach Qi's own desire to get back in the ring for one more shot at victory. Cinematically rich and intimately observed, China Heavyweight is all at once thrilling sports drama, astute social commentary and a beautifully crafted portrait of an athlete.
Interesting, often touching and richly detailed documentary. It is a window into a world very distant to most of us in the United States, yet familiar in many essential ways.
---
4 STARS. CAPTIVATING... Though there are enough crises to satisfy viewers looking for a Sino Rocky, China Heavyweight isn't merely about the fighters' personal struggles. Like Chang's 2007 nonfiction feature, Up the Yangtze, the movie uses its micro-narrative to offer a subtle macro-critique of the state of modern China—a place where effusive national pride can't entirely counterbalance the harsh social and economic realities that prevent each of these fighters from fully realizing his potential. It's in between the lines that this movingly perceptive film scores a TKO.
---
This remarkably tender portrait positions a particularly violent sport as nothing less than a lifeline to the 21st century.
---
ENGROSSING.... intimate and affecting.
---
Beautifully observed and wrought with dramatic moments.
---
Critics' Pick: This fascinating documentary about rural teenagers attempting to become Olympic boxers focuses intently on process, but it also manages to offer a portrait of a nation in the midst of tremendous upheaval. Powerful stuff.
---
4 STARS (OUT OF 4). As with his previous film [Up the Yangtze], director Chang nurses a compelling drama from a multilayered cultural reality, at once intimate and unfathomably large in implications. In his sophomore film, Chang, once again, shows himself to be one of our great young cinéma-vérité directors, with "our" meaning, not just belonging to Canada, but to the world.
---
Crew
Directed by Yung Chang