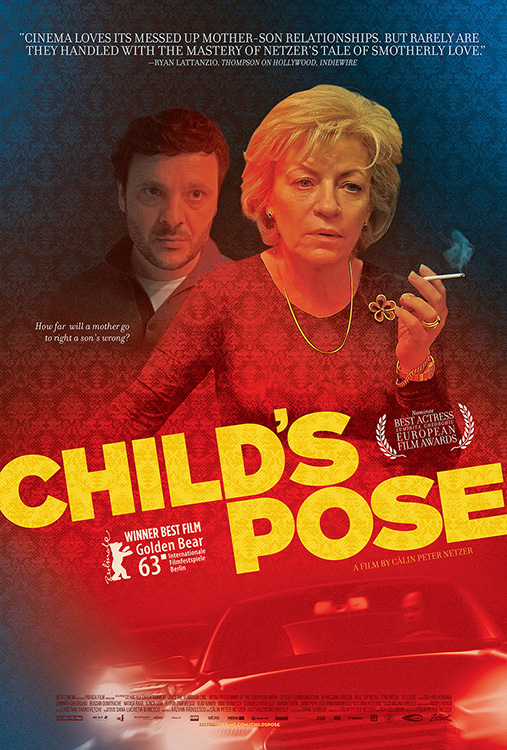 Child's Pose
Directed by Călin Peter Netzer
The top prize winner at the Berlin Film Festival, Calin Peter Netzer's sharply crafted CHILD'S POSE pivots on a riveting performance by Luminita Gheorghiu (Best Supporting Actress,The Death of Mr. Lazarescu, Los Angeles Film Critics) as a steely, well-to-do Bucharest architect determined to keep her 30-something deadbeat son out of jail after a deadly car crash. How far will she go to convince the police, eyewitnesses and even the victim's family that her son was not recklessly speeding? A spellbinding drama of social commentary and psychological realism, this caustic look into the corrupt heart of the Eastern European bourgeoisie twists into a brilliantly ambiguous study of obsessive motherly love. Savagely witty and utterly engrossing, CHILD'S POSE was also the Official Romanian Entry for Best Foreign Language Film at the 86th Academy Awards.
STUNNING! A ferocious psychological drama with the pace of a thriller... You'll be at the edge of your seat and you'll feel yourself really moved... As good a foreign language film as you will likely see all year!
---
4 OUT OF 4 STARS! Director Calin Peter Netzer crafts not only a chilling story of family dysfunction, but also an illuminating look into the corruption and decay of the Romanian bourgeoisie - without ever overplaying his hand. It all appears so effortless, when in fact it's so skillful.
---
A NEW ROMANIAN CLASSIC. MESMERIZING. Gheorghiu amazes…with vivid and perfectly judged performances in a half-dozen masterpieces or more, (she) may be the best actress of her…generation.
---
A gripping psychological thriller built around the luminous and terrifying performance of Luminita Gheorghiu, who is something like the Meryl Streep of Romania.
---
An extremely strong and upsetting film, yet another example of the fascinating things going on in Romania's new wave, with a breathtaking lead performance by Luminita Gheorghiu.
---
Starring Luminita Gheorghiu (in a remarkable performance that should end up on many critics' lists of 2014's best)... Taking on social commentary and psychological realism, Child's Pose is another great offering from Romania, and should not be missed.
---
A continually deepening drama about corruption, class divisions and generational conflict in Romania... stunning effectiveness of the actors... a film that gets all the way down to the rotten bones.
---
A riveting family drama spiked with some sharp social commentary.
---
Wonderfully acted and lit like a daytime nightmare – high resolution with hallucinatory edges from Lazarescu cameraman Andrei Butica – the film moves to a powerful climax. That the film won this year's Berlin Golden Bear surprised none.
---
Part exposé of an endemic form of corruption, part examination of the dysfunctional relationship between a strong-willed mother and her estranged son, Child's Pose demonstrates once again that you don't have to raise the volume level to stir the soul.
---
Crafted with such meticulous attention to detail that viewers might mistake it for nonfiction.... Gheorghiu continues to affirm her reputation as a titan of Eastern European cinema.
---
Luminita Gheorghiu puts in a tour de force performance as this strong-willed mother who is determined to win back her son no matter what it takes.
---
One of the wonderful things about the film is that, unlike so many fine Romanian films of late, this one doesn't go exactly where you expect it to...you won't be able to turn away!
---
From Psycho to The Deep End, cinema loves its messed up mother-son relationships. But rarely are they handled with the mastery of Calin Peter Netzer's tale of smotherly love.... The film works as high art drama and unnerving white knuckler all at once.... A brilliantly written, guileless exploration of a mother's grotesque affection for her son. While the film deals in unmentionables, it articulates them with a brutal, arresting urgency.... It's about time the Academy tunes into this spate of amazing films coming out of Romania.
---
A work of sophisticated and affecting storytelling.
---
The story's premise is a noir standard.... But as things develop, the story goes beyond the thriller genre into deeper waters: the suspense narrative leads to a spiritual crisis. Challenging, intelligent work.
---
In her fur coat and with a cigarette in her hand, Cornelia (brilliantly played by Luminita Gheorghiu) has a touch of Cruella de Vil about her. She is ready to bribe, charm and beg to get her son off. Razvan Radulescu's screenplay is rich in irony and reversals, highlighting tensions between generations, and between the wealthy elite and the people whose lives are blighted by the elite's unthinking behaviour and desperation to cling to its status.
---
Luminita makes Cornelia a shocking figure....the result is as compelling as Romanian New Wave landmarks such as 'The Death of Mr. Lazarescu' and '4 Months, 3 Weeks & 2 Days'
---
An engrossing character study and thrilling family drama.... Luminita Gheorghiu delivers perhaps the greatest performance of the year.
---
It's one of those rare films (Iranian Oscar-winner A Separation was another) which trusts audiences to bring along their own moral compass. Sharp, chilling and involving.
---
Spectacular...a snappish, seething, darkly funny drama of class and ethics that [Luminita Gheorghiu] presides over with iron-backed imperiousness.
---
Admirably handled with wicked moments of humor balancing out a truly dramatic finale.
---
Gheorghiu, a truly great actress, is here playing the part of a woman who is herself a great actress, and we can't catch either out... The last quarter of Child's Pose is so remarkably strong...
---
Consider this a must see... among the better items in the plethora of solid foreign film offerings running for Best Foreign Picture this year.
---
Child's Pose is simply unforgettable cinema – complete with a breathtaking lead performance by Gheorghiu, playing a strong, female lead role in her 60s, something we simply don't see enough of in Hollywood.
---
ONE OF THE TEN BEST FILMS OF 2014! Another astonishment from the Romanian renaissance, directed by Calin Peter Netzer, it features a world-class performance from Luminita Gheorghiu as a mother obsessed with redeeming the son who disdains her.
---
Crew
Directed by Călin Peter Netzer