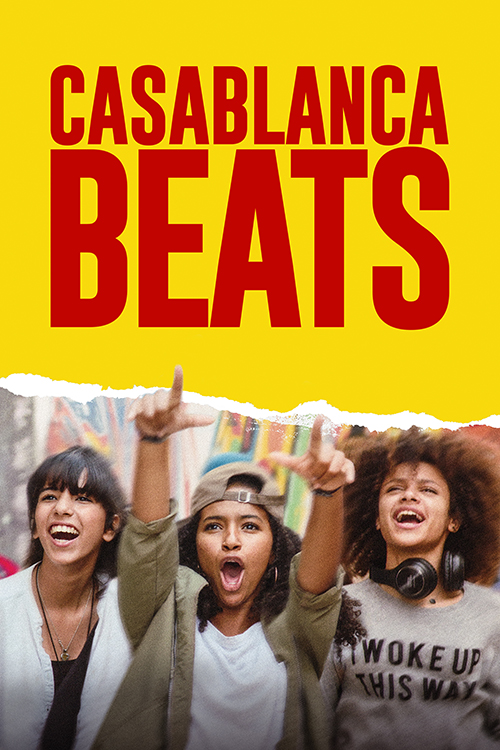 Casablanca Beats
Directed by Nabil Ayouch
Year: 2021
Country: France, Morocco
Language: Arabic with English subtitles
Director Nabil Ayouch (Razzia, Horses of God) drew on his own experience opening a youth cultural center in Casablanca for this story of a former rapper named Anas who takes a job teaching hip hop in an underprivileged neighborhood. Despite differences in identity, religion, and politics, Anas encourages his students to bond together and break free from the weight of restrictive traditions in order to follow their passion and express themselves through the arts. Featuring a dynamic ensemble of first-time actors, many of them students of the real-life cultural center where the film was shot, CASABLANCA BEATS is a vibrant and inspiring coming-of-age hip hop musical with a decidedly feminist edge. Mixing intimate yet high stakes drama with infectious musical sequences, the film transports audiences to a lively and contemporary Casablanca, far from the clichés about the Arab world. Morocco's official submission to the 94th Academy Awards® offers a refreshing dose of youthful inspiration alongside a powerful message about the liberating power of self-expression.
"Nabil Ayouch's exuberant musical declares that... hip-hop isn't dead; it's just been hiding in Morocco."
---
"Energetic and hopeful. Communicates the creative excitement of hip-hop [and] infects the audience with its passion and the unshakable belief that a person who has self-confidence and self-expression can really change society."
---
"The film has the power to engage and amuse, and it also delivers a factor that's in short supply in this year's Cannes competition entries: joy."
---
"Could be a rallying cry for any youth activism group, anywhere in the world. It's hard to argue when the results are this energetic, this empowering and this irresistibly youthful."
---
"Defiant, uninhibited and full of attitude. Hip hop and rap music infuse every aspect of Nabil Ayouch's vibrant musical… this is a film which celebrates empowerment and the exhilarating release of finding a voice and being heard."
---
"A spiky, politically energized drama."
---
"An excellent tale that is both a love affair with hip hop and a look at how the Moroccan youth is challenging orthodox views in the digital age."
---
Cast
Anas Basbousi
Ismail Adouab
Nouhaila Arif
Zineb Boujemaa
Crew
Directed by Nabil Ayouch