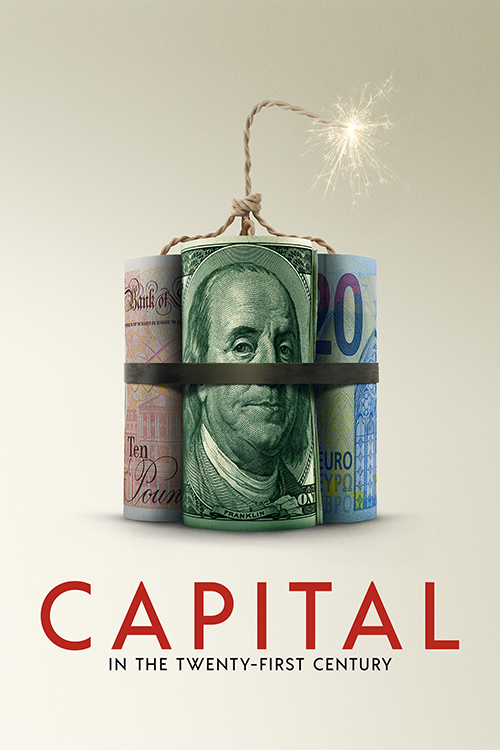 Capital in the Twenty-First Century
Directed by Justin Pemberton
Year: 2020
Country: New Zealand
Language: English and French with English subtitles
English Closed Captions
Based on the international bestseller by rock-star economist Thomas Piketty (which sold over three million copies worldwide and landed Piketty on Time's list of most influential people), this captivating documentary is an eye-opening journey through wealth and power, a film that breaks the popular assumption that the accumulation of capital runs hand in hand with social progress, and shines a new light on today's growing inequalities. Traveling through time, the film assembles accessible pop-culture references coupled with interviews of some of the world's most influential experts delivering an insightful and empowering journey through the past and into our future.
"It's a massive achievement, turning this weighty volume into enthralling cinema."
---
"Engaging... [Piketty] is not only a brilliant economist but also one with a gift for making complicated ideas accessible."
---
"A financial detective story that exposes our current crisis. Provokes a consistent sense of 'Whoa!'"
---
"A brilliantly assembled, blood-boiling examination of the past 100 years in economics."
---
"Lively, informative… lays out the economist's arguments with lucidity and persuasiveness, using a slew of pop-culture references."
---
"A spry, erudite, and consistently watchable documentary that articulates how we got here, and why things are only going to get worse if we don't right the balance between economic growth and consolidated wealth."
---
"Bold, incisive, riveting… one of the best documentaries in recent years."
---
"An easily digestible cinematic companion to such a crucial and potentially prophetic book."
---
"Piketty has transformed our economic discourse; we'll never talk about wealth and inequality the same way we used to."
---
Cast
Thomas Piketty
Francis Fukuyama
Joseph Stiglitz
Crew
Directed by Justin Pemberton