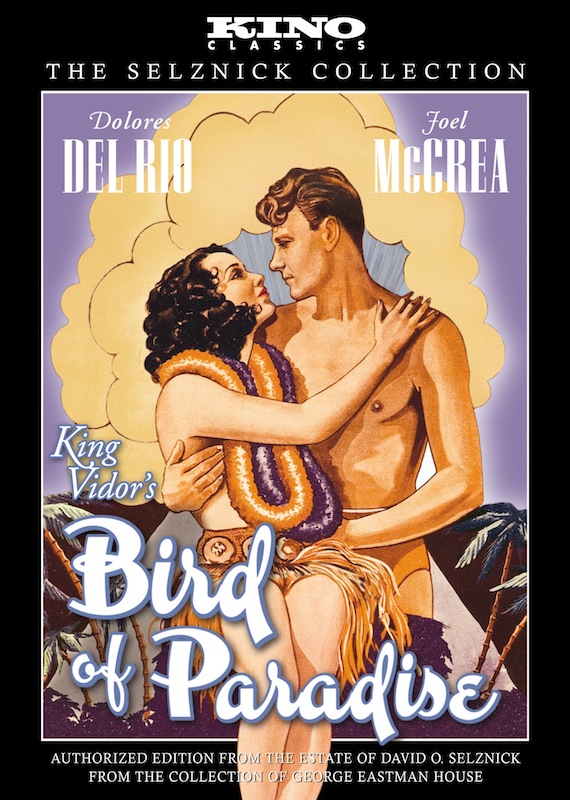 Bird of Paradise
Directed by King Vidor
Year: 1932
Country: U.S.
Language: English
From legendary Oscar®-winning director King Vidor (The Crowd, Duel in the Sun) comes an exotic tale of romance set in gorgeous Polynesia: BIRD OF PARADISE.

Johnny (Joel McCrea) is an intrepid young sailor traveling the South Seas who falls in love with Luana (Dolores del Rio), the beautiful daughter of an island chief. But Luana is betrothed to a neighboring native prince, and is soon to be married. With little thought to the future, Johnny and Luana elope together, searching for paradise in each other's arms.

With McCrea at his most dashing and del Rio at her alluring height, BIRD OF PARADISE is a movie of wild eroticism and thrilling adventure, and not to be missed.
King Vidor's South Seas romance "Bird of Paradise" (1932) has circulated for so long in degraded public-domain prints that its reappearance as a Blu-ray, sourced from an original nitrate print from the private collection of the producer David O. Selznick, seems like a rebirth. - The New York Times
---
Cast
Delores del Rio
Joel McCrea
John Halliday
Richard "Skeets" Gallagher
Crew
Cinematographers Clyde De Vinna, Edward Cronjager and Lucien Andriot
Produced by David O. Selznick
Writers Leonard Praskins (Screenplay) , Wells Root (Screenplay) and Wanda Tuchock (Screenplay)
Composed by Max Steiner
Directed by King Vidor