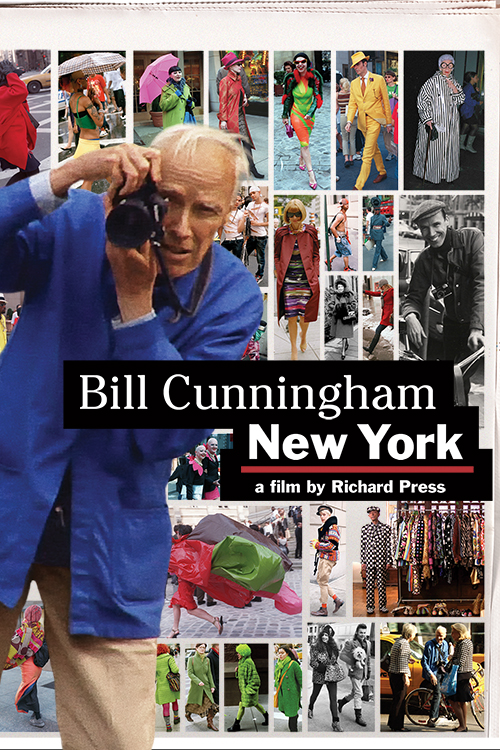 Bill Cunningham New York
Directed by Richard Press
Year: 2010
Optional English Subtitles
"We all get dressed for Bill," says Vogue editrix Anna Wintour. The "Bill" in question is 80+ New York Times photographer Bill Cunningham. For decades, this Schwinn-riding cultural anthropologist has been obsessively and inventively chronicling fashion trends and high society charity soirées for the Times Style section in his columns "On the Street" and "Evening Hours." Documenting uptown fixtures (Wintour, Tom Wolfe, Brooke Astor, David Rockefeller—who all appear in the film out of their love for Bill), downtown eccentrics and everyone in between, Cunningham's enormous body of work is more reliable than any catwalk as an expression of time, place and individual flair. In turn, BILL CUNNINGHAM NEW YORK is a delicate, funny and often poignant portrait of a dedicated artist whose only wealth is his own humanity and unassuming grace.
[A] captivating and moving portrait of a singular man and a passing era… Mr. Cunningham finds something creative, life-affirming and free, and preserves it forever. An intimate portrait that feels more found or captured than it does constructed. (Cunningham) is an aesthete and an ascetic, a member of the establishment and a bohemian, and among the last of his kind.
---
It's a real privilege to watch this film!
---
The touching, heart-swelling film—which covers the simple life of the city's most beloved shutterbug—reminds us that fashion doesn't have to be so serious. It can be fun. It can be frivolous. And, as Mr. Cunningham shows us night after night, it can be a wild adventure.
---
Fascinating! A smart, playful movie! As much a portrait of a kind of artist as it is a document of a city's evolving sense of style.
---
A magisterial documentary about urban life and creativity.
---
CRITICS' PICK! Press's celebratory, humorous, and often touching directorial debut captures one of New York's most appealing characters. As fittingly modest as its charming subject.
---
A near Buddhist reflection on what it takes to fully engage Gotham, as well as an astute snapshot of its evermore avaricious soul… Tagging along with Cunningham is a bracing reminder of what's been lost to the bottom line.
---
ILLUMINATING AND INSPIRING!
---
A great documentary for a deserving fashion legend.
---
The most elusive and most visible fashion presence in New York has finally been captured on film, in a deeply moving, visually stunning documentary about New York Times 'On the Street' photographer Bill Cunningham.
---
Bill Cunningham is astutely defined by Bill Cunningham New York as not simply a traditional photographer of clothing, but an anthropological historian. (The film) is at heart the story of a man for whom life's great joy has come from wholesale immersion in artistic obsession.
---
Lovely and heartening. We see his work process in all its marvelous (or, as Cunningham says, mahvelous) idiosyncrasy.
---
When fashion fans talk about street style these days, they're likely to drop the names of Scott Schuman, Yvan Rodic aka The Facehunter or Garance Doré . But most of them forget about a true pioneer in this field, 80-year-old New York Times photographer Bill Cunningham, who now gets the credit he deserves in new documentary Bill Cunningham New York.
---
Crew
Directed by Richard Press