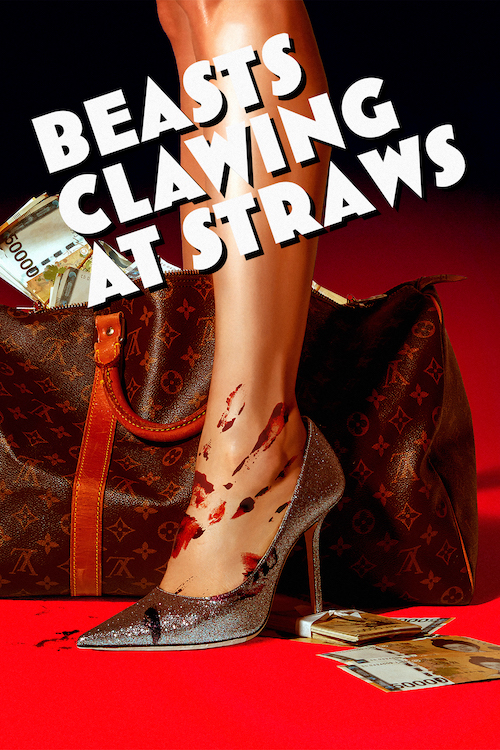 Beasts Clawing at Straws
Directed by Kim Yong-hoon
Year: 2020
Country: South Korea
Language: Korean
A Louis Vuitton bag stuffed full of cash sends a group of hard-luck lowlifes on a desperate chase for the fortune in this pitch-black neo-noir crime thriller. Fish-mongering gangsters, a greasy cop, an "innocent" gym cleaner, a young sex worker, her abusive husband, her ruthless boss and her clueless boyfriend all violently scheme to get their hands on the elusive bag. First time director Kim Yong-hoon's witty thriller is a beautifully constructed puzzle that with each double-cross, the pieces fall into place. Starring Jung Woo-sung from Asura: City of Madness and Jeon Do-yeon, award winner in Cannes for her lead role in Secret Sunshine.
"A twisted cat and mouse tale of betrayal and mayhem with a genuinely droll tone throughout, virtually guaranteeing audience enjoyment and even (guilty) smiles in the face of murder."
---
"A wild, multi-character ride that's rife with energy and style, complexly knotted with an ending as simple as it is satisfying."
---
"Like a theme park ride, fun, enjoyable, the odd highs, the odd lows. It keeps you invested throughout. It is fun, grasping, and full of good performances. A worthy debut for Kim Yong-Hoon, who has done a commendable job as a first time director."
---
"Sure as hell entertaining ride from start to finish...deliciously fun as the ironically dark title."
---
"A film that unfolds like a situational, almost Shakespearean comedy, Beasts Clawing at Straws features a great story, and equal cinematic implementation in one of the most entertaining and well-shot movies of the year."
---
"A shamelessly convoluted neo-noir with impressive storytelling acumen and stylistic brio to spare, [director] Kim spins an amoral tale of greed and retribution from the ground up, reminding of the pure visceral pleasures a well-wrought genre exercise can still provide."
---
Cast
Jeon Do-yeon
Jeon Do-yeon
Bae Sung-woo
Yun Yuh-jung
Jung Man-sik
Crew
Directed by Kim Yong-hoon