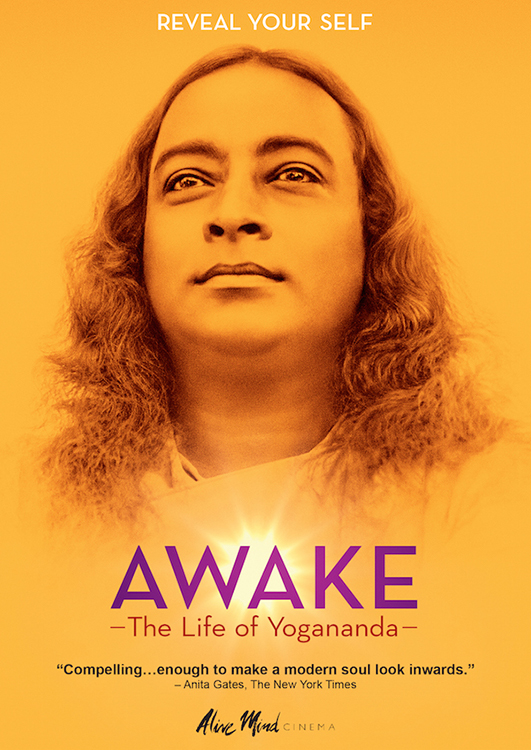 Awake: The Life of Yogananda
Directed by Paola di Florio, and Lisa Leeman
Year: 2014
Country: U.S.
Language: English
AWAKE: THE LIFE OF YOGANANDA is an unconventional biography about the Hindu swami who brought yoga and meditation to the West in the 1920s. Paramahansa Yogananda authored the spiritual classic Autobiography of a Yogi, which has sold millions of copies worldwide and is a go-to book for seekers, philosophers and yoga enthusiasts today (apparently, it was the only book that Steve Jobs had on his iPad). By personalizing his own quest for enlightenment and sharing his struggles along the path, Yogananda made ancient Vedic teachings accessible to a modern audience, attracting many followers and inspiring the millions who practice yoga today. Filmed over three years with the participation of 30 countries around the world, the documentary examines the world of yoga, modern and ancient, east and west, and explores why millions today have turned their attention inwards, bucking the limitations of the material world in pursuit of Self-realization.
"Compelling...enough to make a modern soul look inwards"
---
"Gripping, inspiring...epic...the filmmakers hook you emotionally from the get-go."
---
"Fittingly enlightening, "Awake: The Life of Yogananda" is a vivid, elegantly assembled portrait of the savvy guru with the cherubic face and penetrating gaze who brought meditation to the West."
---
"Dreamy, entrancing...and while such material can be hard to pull off, directors Paola di Florio and Lisa Leeman are masters of atmospherics"
---
"Engrossing and informative from start to finish"
---
"If you want to understand yoga as something beyond a workout exercise, this spiritual documentary could be a fine start."
---
"Co-directors Paola di Florio and Lisa Leeman honor the man with a reverential though rarely stuffy portrait."
---
"A rounded portrait of the Father of Yoga in the West that celebrates his practical and uplifting art of spiritual living."
---
"A film that works both for followers and for those interested in knowing what yoga is truly about. Hint: It's not about six-pack abs."
---
Cast
Paramahansa Yogananda
George Harrison
Anupam Kher
Russell Simmons
Crew
Directed by Lisa Leeman and Paola di Florio