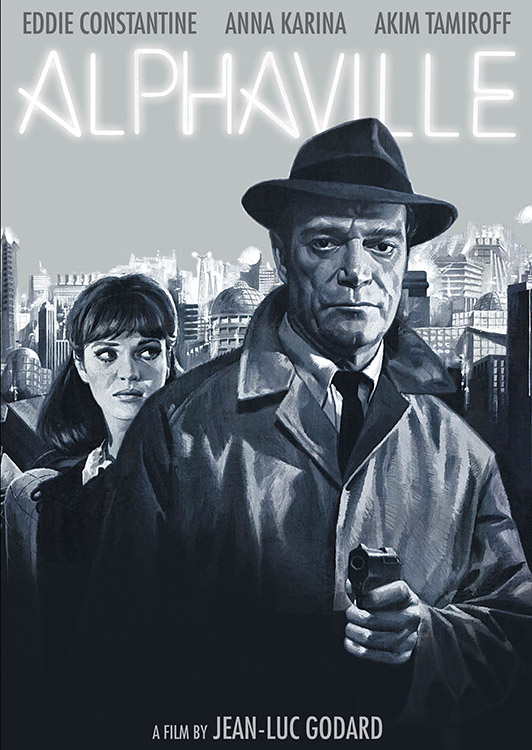 Alphaville
Directed by Jean-Luc Godard
Year: 1965
Country: France
Language: French, with English subtitles
From Jean-Luc Godard, the influential director of BREATHLESS, CONTEMPT, BAND OF OUTSIDERS and PIERROT LE FOU. American secret agent Lemmy Caution (Eddie Constantine, Attack of the Robots) is sent to the distant space city of Alphaville where he must find a missing person and kill the inventor of fascist computer Alpha 60. Anna Karina (The Nun) and Akim Tamiroff (After the Fox) co-star in this cockeyed fusion of science-fiction with pulp characters and surrealist poetry. Godard's irreverent journey to the mysterious ALPHAVILLE remains one of the least conventional films of all time. Beautifully shot in glorious black-and-white by Raoul Coutard (Jules and Jim, First Name: Carmen).
"It's one of the great cinematic works of romanticism, as well as a sort of filmed revelation of the very essence of science-fiction movies and German silent classics -- their blend of social critique, emotional liberation, and paranoia."
---
It remains an outstanding example of the filmmaker's power to transform an environment through the selection of detail: everything in it is familiar, but nothing is recognizable."
---
"Nothing about this strange, moving work of agit-pop has ever seemed out of date. If anything, "Alphaville" moves closer to relevance with every passing year"
---
"One of Godard's most sheerly enjoyable movies, a dazzling amalgam of film noir and science fiction."
---
Cast
Eddie Constantine
Anna Karina
Akim Tamiroff
Jean-Pierre Leaud
Valérie Boisgel
László Szabó
Howard Vernon
Christa Lang
Crew
Directed by Jean-Luc Godard