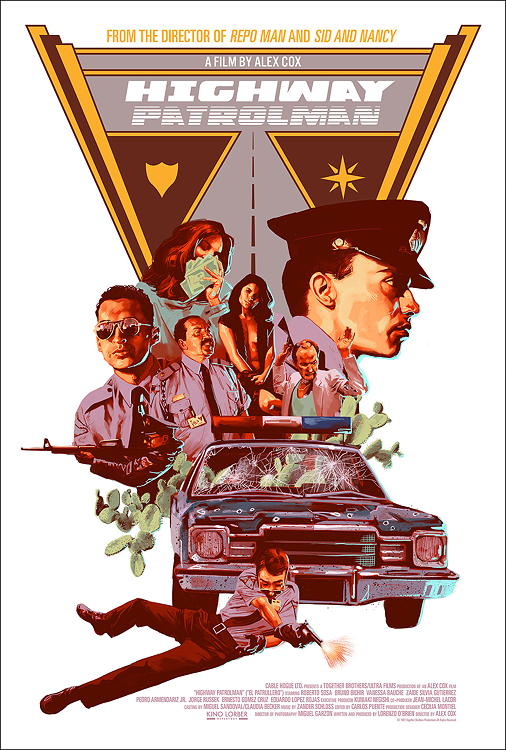 Alex Cox Double Feature
Directed by Alex Cox
Country: U.S., Mexico
Language: English and Spanish with English subtitles
This special program put together in partnership with the Texas Theatre features two cult classics from Repo Man director Alex Cox followed by a 20-minute interview with the man himself!

HIGHWAY PATROLMAN (1991, 104m)
Repo Man director Alex Cox went south of the border to film this dramatic tale of a rookie member of Mexico's national highway patrol, who struggles to keep on the straight and narrow in a department rife with corruption. This is a new 4K restoration overseen by the director.

STRAIGHT TO HELL (1986, 91m)
In this director's cut of the 1987 cult classic, four hapless bank robbers bury their loot and attempt to hide out in a deserted desert town, but very soon find out that the town is not really deserted. Norwood (Sy Richardson), Simms (Joe Strummer) and Willy (Dick Rude) are three black-suited killers-for-hire. After missing their intended target and trying to escape the wrath of their employer (Jim Jarmusch), they head for the desert and rob a bank en-route. As their car dies in a ravine, the trio bury their money and head for a lonely town to hide out till the heat blows over. The insane cast includes Courtney Love, The Pogues, Grace Jones, Dennis Hopper, Elvis Costello, Kathy Burke and Xander Berkeley.
Crew
Directed by Alex Cox