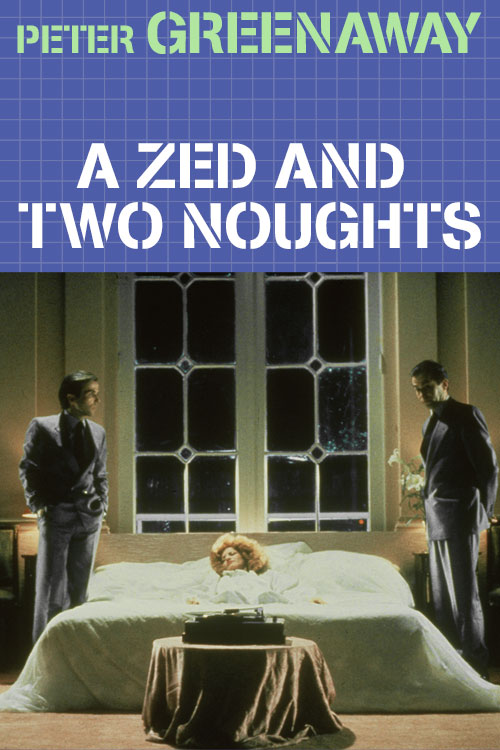 A Zed & Two Noughts
Directed by Peter Greenaway
Year: 1985
Country: U.K.
Language: English
English Closed Captions
"Two legs look so good together, don't you think?" A masterpiece of modern cinema, A ZED AND TWO NOUGHTS is Peter Greenaway's beautifully disturbing and darkly humorous take on erotic obsession and death. In a horrific automobile-swan accident in front of the Rotterdam Zoo, two women die and a third, Alba (Andrea Ferréol), loses her leg. The two widowers, twin zoologists Oliver and Oswald (Eric and Brian Deacon, in roles originally offered to the Quay Brothers), fixate on their wives' bodies, and slowly become obsessed with evolution and decomposition—even going as far as to meticulously craft exquisitely morbid time-lapsed films of decaying creatures. The plot thickens when a mad surgeon schemes to use Alba as a subject in his experiments with animal symmetry and Vermeer homage.

With this follow-up to his acclaimed THE DRAUGHTSMAN'S CONTRACT, Greenaway intensifies his already striking visual style by collaborating with legendary French cinematographer Sacha Vierny to create a masterpiece of motivated light. Full of surprises and magnificent conundrums, A ZED AND TWO NOUGHTS is a perversely comic and teasing treat for the mind and senses.
Crew
Directed by Peter Greenaway