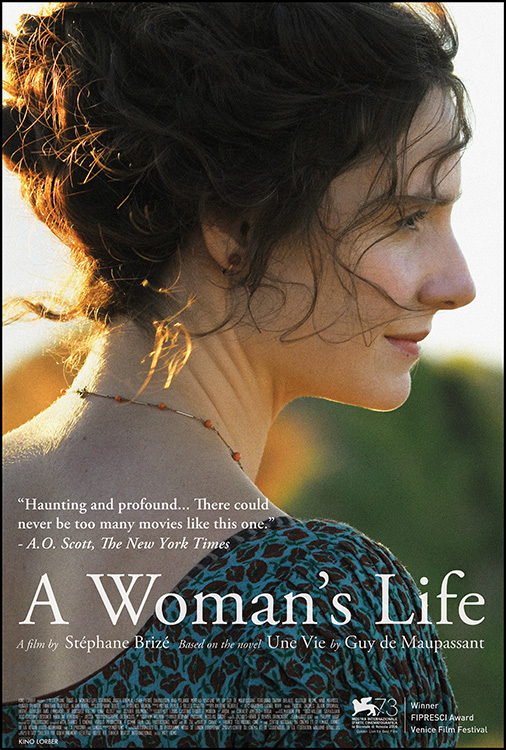 A Woman's Life
Directed by Stéphane Brizé
Year: 2017
Country: France
Language: French with English subtitles
Adapted from the novel Une vie by Guy de Maupassant, A WOMAN'S LIFE is a tale of tormented love embedded in the restrictive social and moral codes of marriage and family in 19th century Normandy. Upon finishing her schooling in a convent, young aristocrat Jeanne (Judith Chemla) marries local Viscount Julien de Lamare (Swann Arlaud), who soon reveals himself to be a miserly and unfaithful husband. As she navigates his chronic infidelity, pressure from her family and community, and the alternating joys and burdens of motherhood, Jeanne's rosy illusions about her privileged world are slowly stripped away. French filmmaker Stéphane Brizé shoots this follow-up to his Cannes and César Award winner The Measure of a Man in constricted 4:3 Academy ratio, creating a tightly composed work that perfectly translates de Maupassant's portrayal of life's indifferences.
"Haunting and profound... There could never be too many movies like this one."
---
"A moving, beautifully modulated adaptation of Guy de Maupassant's novel... has the kind of majesty found not in the grand gesture but the modest detail."
---
Cast
Judith Chemla
Swann Arlaud
Nina Meurisse
Jean-Pierre Darroussin
Yolande Moreau
Crew
Directed by Stéphane Brizé
Writers Stéphane Brizé (Screenplay) , Florence Vignon (Screenplay) and Guy de Maupassant (Novel)