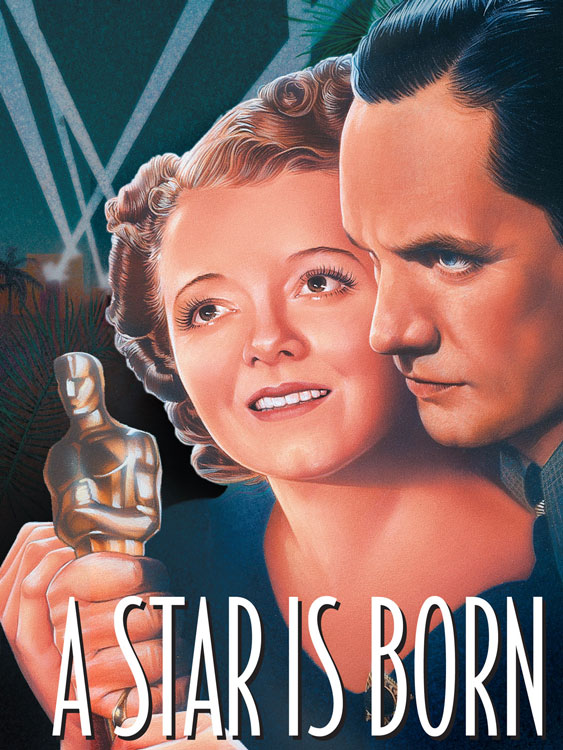 A Star is Born
Directed by William Wellman
Year: 1937
Country: U.S.
Language: English
Esther Blodgett (Janet Gaynor) comes to Hollywood with dreams of stardom only to have them shattered by a ruthless, cold-hearted town without pity, where the chances of finding fame are one in a hundred thousand.

Enter falling (and falling down drunk) movie star Norman Maine (Fredric March), whom Esther meets at a Hollywood party. Maine gets Esther a screen test and she's an instant success, and the publicity machine sets about recreating the small-town girl. But as Esther (reborn as Vicki Lester) rises to celebrity, Norman's stardom plummets, landing him in an alcoholic depression from which true love and Tinseltown fantasy may not be able to rescue him.

Academy Award winner for Best Original Screenplay and Nominated for 6 Academy Awards including Best Picture, Actor, Actress, Director, Best Writing, screenplay, and Assistant Director.
"Like other films in the public domain, A Star is Born has been subjected to many sub-par home video releases over the years. While Image Entertainment's 2004 DVD was decent, Kino's Blu-ray release handily bests it in every category. Sourced from the best materials available at the George Eastman House's film preservation division, the disc's 1080p/AVC-encoded transfer does justice to the film's Technicolor cinematography...Another wonderful early Technicolor title from Kino."
---
"I doubt we will see this masterpiece looking any better...This is a powerful film - Gaynor steals the show as always - it was a pleasure to watch on Blu-ray. Honestly, I was not expecting it to be so... entrancing. I frequently had the sense that I was privy to a historical recreation of the theatrical presentation. That and the value of the film itself are surely worth the indulgence for those keen on the stars, the era and the touching story."
---
"Good entertainment by any standards, including the artistic, and convincing proof that Hollywood need not travel to Ruritania for its plots; there is drama aplenty in its own backyard."
---
Cast
Janet Gaynor
Fredric March
Franklin Pangborn
Lionel Stander
Andy Devine
Adolphe Menjou
Mary Philips
Crew
Writer Dorothy Parker
Composed by Max Steiner
Produced by David O. Selznick
Directed by William Wellman