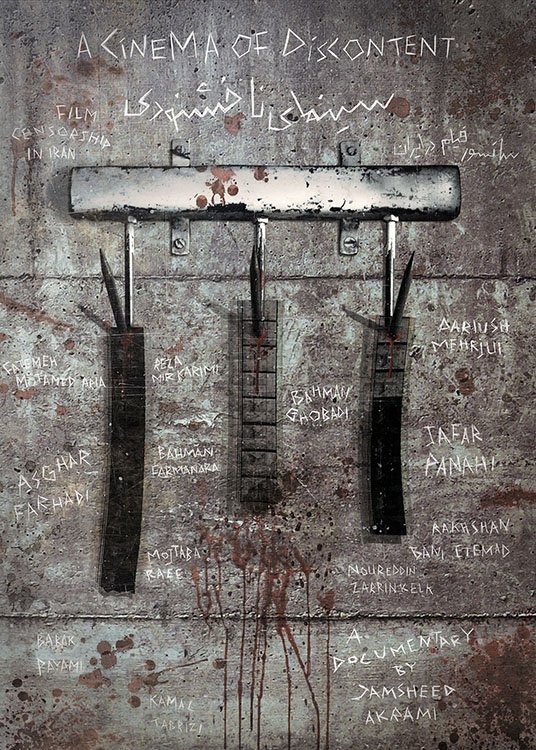 A Cinema of Discontent
Directed by Jamsheed Akrami
Year: 2013
Country: U.S.
Language: English, Persian with English Subtitles
The international success of Iranian cinema over the past decades may have veiled the fact that Iranian filmmakers work under extremely harsh circumstances rarely seen in other national cinemas. Filmmaking in Iran is subject to tight government controls and strict censorship codes ranging from banning any criticism of the regime to highly restrictive codes on representation of women and their interactions with men. The imposed codes have undermined the creativity of the filmmakers and their ability to tackle pressing social issues.

A CINEMA OF DISCONTENT explores the censorship codes through analyzing dozens of clips from mainstream and art-house films. It features insightful interviews with 12 Iranian filmmakers, including the internationally-acclaimed directors Jafar Panahi, Bahman Ghobadi, and the two-time Oscar winner Asghar Farhadi (A Separation, The Salesman)

The Film documents the brave efforts of the filmmakers whose defiance and attempts to subvert the codes have been punished by being banned from working, imprisonment, and forced exile.
"Entertaining and informative doc … enriching for those who follow Iranian cinema closely and an eye-opener for less worldly film buffs."
---
"Jamsheed Akrami's enlightening documentary, "A Cinema of Discontent" … with a wealth of film clips and interviews … takes the viewer on a journey through several decades of mainstream Iranian cinema."
---
"A Cinema of Discontent is my No. 1 suggestion……. It's truly fascinating."
---
"At a time when Iranian cinema is garnering acclaim around the world, Jamsheed Akrami reveals the rigid government controls and harsh censorship codes that are being imposed on Iranian filmmakers, and meditates on the challenges those restrictions pose to the creative process. Careful analysis of both mainstream and art-house films, and interviews with such renowned Iranian filmmakers as Asghar Farhadi, Jafar Panahi, and Bahman Ghobadi offer insight into the many ways that the artists have challenged these rules, and the consequences they have suffered for doing so."
---
"Film scholar and filmmaker Jamsheed Akrami continues his outstanding documentary series on Iranian cinema (Friendly Persuasion, 2000; The Lost Cinema, 2007) with this illuminating look at film censorship in Revolutionary Iran"
---
"The power of Akrami's film is the result of his excellent selection of film fragments that illustrate various restrictions imposed by censors and ways to circumvent them…..Despite the seriousness of the subject matter dealt with in Akrami's film, there is no shortage of humor, which is the best weapon in the fight against the systemic absurdity of censorship."
---
Crew
Directed by Jamsheed Akrami