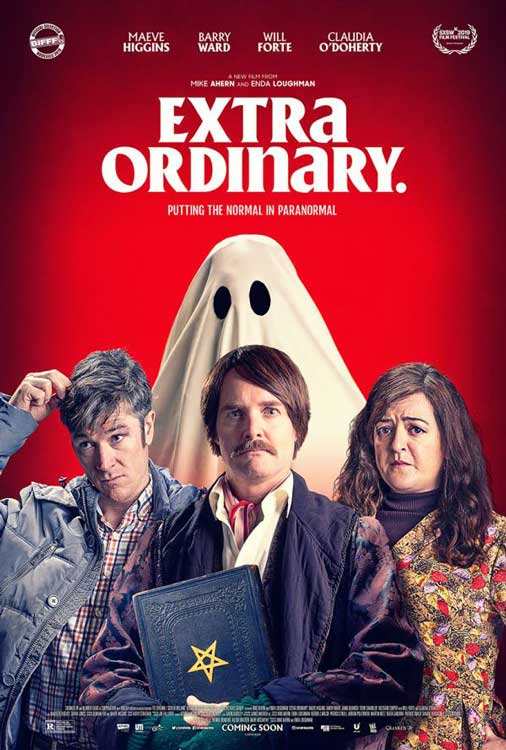 Extra Ordinary
Directed by Mike Ahern, and Enda Loughman
Year: 2020
Running Time: 93 minutes
Country: Ireland, Belgium
Language: English
Rose, a sweet, lonely driving instructor in rural Ireland, is gifted with supernatural abilities. Rose has a love/hate relationship with her 'talents' and tries to ignore the constant spirit related requests from locals – to exorcise possessed rubbish bins or haunted gravel. But! Christian Winter, a washed up, one-hit-wonder rock star, has made a pact with the devil for a return to greatness! He puts a spell on a local teenager – making her levitate. Her terrified father, Martin Martin, asks Rose to help save his daughter. Rose has to overcome the fear of her supernatural gift and work with Martin to save the girl, get the guy and be home in time for a light snack... maybe a yogurt or something.
"Like those cheeky genre-splicing comedies that came before it, the Ahern-Loughman collaboration doesn't merely goose the boundary between charming and outrageous, it gleefully tramples it into oblivion."
---
"Great cult films enjoy small, confident roots. Extra Ordinary carves it's place in the genre, perhaps even defining a new era of paranormal comedy left void from the exhausting onslaught of spoofs of the mid-2010s."
---
"Extra Ordinary, a blend of low-key supernatural chills and offbeat Irish comedy, is one of the sweetest and funniest movies of the year."
---
"Armed with wit and charm to spare, "Extra Ordinary" is joyful and creative and deserves to find an audience — in this world or the next."
---
"Extra Ordinary's unusual warmth lingers in the air like a friendly ghost."
---
Cast
Maeve Higgins
Barry Ward
Risteárd Cooper
Jamie Beamish
Terri Chandler
Will Forte
Claudia O'Doherty
Crew
Directed by Mike Ahern and Enda Loughman
A NOTE FROM LIBERTY HALL
Liberty Hall would like to thank you for your support during this challenging time. Liberty Hall is grateful for the opportunity to continue offering the cinematic experience to our devoted audiences, even as our theater remains temporarily closed. Your support with this purchase will help Liberty Hall remain a vibrant center for cinema culture once this turbulent period is behind us. The show must go on—and it will, thanks to you.
2021 Kino Lorber, Inc., All Rights Reserved