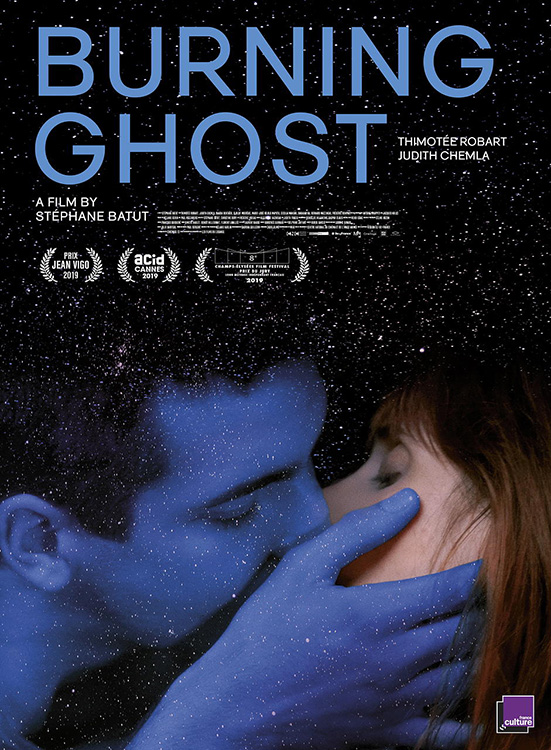 Burning Ghost
Directed by Stéphane Batut
Country: France
Language: French with English subtitles
This debut feature film by director Stéphane Batut centers around Juste, who can see dead people. He wanders the streets of Paris, escorting the ghosts he encounters into the afterlife after collecting their last memory. But Juste's liminal existence is thrown into jeopardy when a young woman named Agathe recognizes him, and he falls madly and illicitly in love with her. Presented in partnership with French Institute Alliance Française (FIAF)
Crew
Directed by Stéphane Batut
About Burning Bright: New French Filmmakers (June 16–August 3, 2020)
Burning Bright, FIAF's annual summer celebration of emerging French and Francophone voices in cinema, is back for a fourth year. Running from Tuesday, June 16 through Monday, August 3, the series will present seven new feature films from a crop of exciting directors.

For the first time, this popular CinéSalon series will take place online, allowing even greater access to these films and increased visibility for these remarkable new talents. From poignant if unconventional coming-of-age tales to examining relationships between elected officials and their communities, this year's series includes four US premieres and one NY premiere.
A new film will be posted each Tuesday on Kino Now and will remain available for one week. Films will be free for FIAF Members and $12 per film for Non-Members. Head to the FIAF website to learn more.
2021 Kino Lorber, Inc., All Rights Reserved