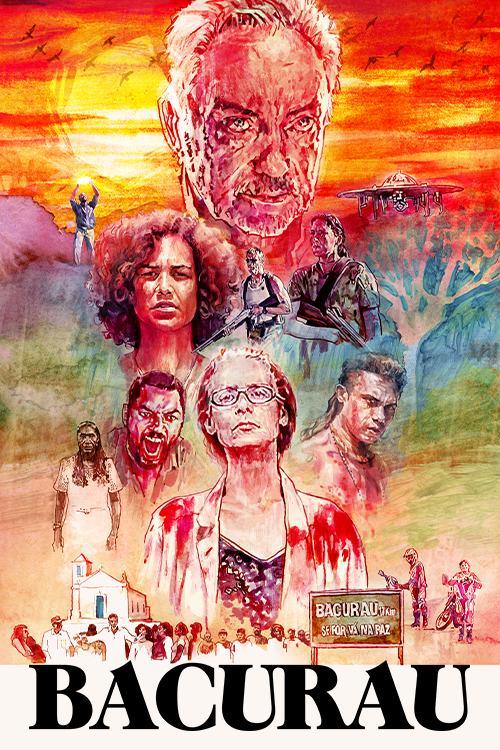 Bacurau
Directed by , and
Year: 2019
Country: Brazil, France
Language: English and Portuguese with English subtitles
A few years from now... Bacurau, a small village in the Brazilian sertão, mourns the loss of its matriarch, Carmelita, who lived to be 94. Days later, its inhabitants (among them Sônia Braga) notice that their village has literally vanished from online maps and a UFO-shaped drone is seen flying overhead. There are forces that want to expel them from their homes, and soon, in a genre-bending twist, a band of armed mercenaries led by Udo Kier arrive in town picking off the inhabitants one by one. A fierce confrontation takes place when the townspeople turn the tables on the villainous outsiders, banding together by any means necessary to protect and maintain their remote community. The mercenaries just may have met their match in the fed-up, resourceful denizens of little Bacurau.
"Critic's Pick! Exhilarating. A heart-thumping political allegory that tips its hat to masters like John Carpenter."
---
"[A] boldly inventive political fantasy... offers a thrillingly imaginative playbook for resistance."
---
"A gloriously demented (and lightly psychedelic) Western."
---
"A genre-busting entertainment that is at once a portrait of a community, a horror thriller and a timely piece of political filmmaking. Bacurau is one of those movies like Parasite... where you're never quite sure which way it's heading."
---
"Utterly distinctive filmmaking, executed with ruthless clarity and force. A scream of satirical defiance. This is not just fantasy, not just symbolism – it is the shape of things to come."
---
"A modern-day western with some of the raw, hallucinatory power of a Sergio Leone epic. Rich and extremely filling."
---
"Feels like a favorite Gabriel García Márquez novel crossed with a Sergio Leone spaghetti western."
---
"A perfect blend of blistering social commentary and illicit genre-flick thrills."
---
Cast
Crew
Directed by and
A NOTE FROM BAM
"We were so looking forward to sharing this tremendous, rousing and timely film with our audiences at BAM before coronavirus shook up everybody's plans, and we sadly had to close our doors. But, while we're sad not to be able to present this film in its optimal big-screen format in a communal setting, we are absolutely thrilled to be working with Kino Lorber to bring this riveting experience into your homes. Your purchase helps to support both BAM and Kino Lorber, and adds to the ongoing effort to help cinemas reopen. Enjoy the film, and we'll see you back at BAM in the future!" – Ashley Clark, Director, Film Programming, BAM
Join us for a YouTube Live Q&A with Udo Kier and filmmakers Kleber Mendonça Filho and Juliano Dornelles on April 1 at 8:00pm EDT!